A poll of 2,000 people by pasta company Giovanni Rana found that 15 percent of home cooks have served food to guests that fell on the floor. And 10 percent have served food at their dinner parties cooked with out-of-date ingredients. Really?
Have you ever served food to guests that you dropped on the floor or that was made with expired ingredients? Dinner parties can be stressful and it's not too difficult to see how someone might serve floor food out of panic, but 15 percent? Let us know. Please leave your best dinner party disasters in the comments section below!
Image Sources:
Categories: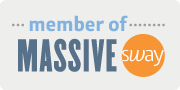 Want more from Foodista? Sign up below!