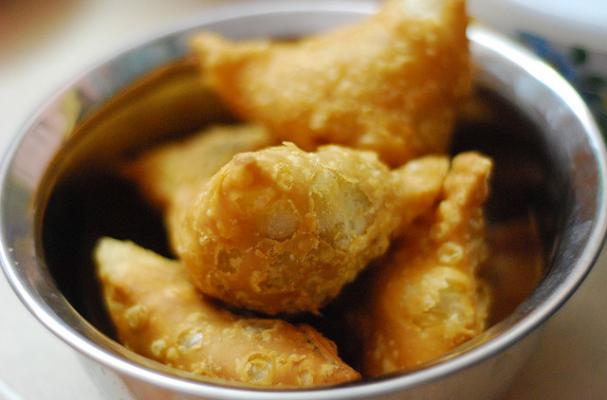 Whenever I eat out at an Indian restaurant, I always request samosas. These flavorful bundles are filled with peas, potato, chicken, and spices. They are usually fried but I love this baked version. The puff pastry makes them light and adds a slight crunch. You can easily make these vegetarian by substituting chicken with chickpeas. I like to dip mine in chutney but yogurt sauce is just as delicious.
Ingredients:
2 packages puff pastry
1 egg
1 teaspoon water
1 large russet potato
Water
Salt
2 bay leaves
1 1/2 teaspoons coriander seeds
1/2 teaspoon black peppercorns
1/2 teaspoon red chili flakes
3 ounces boneless, skinless chicken breast
1 mango, peeled, pitted and finely diced
1/4 cup peas
Juice of 1/2 lime
5 tablespoons chipotle sauce
1/2 teaspoon cumin seeds
3 tablespoons cilantro leaves, minced
Salt and freshly ground black pepper
For full recipe, click below
Image Sources:
Want more from Foodista? Sign up below!