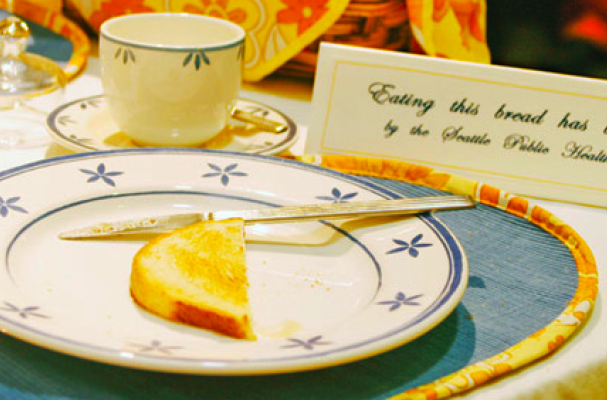 Our increased collective focus on food, sustainability and where our nutrients come from has created a perfect storm for these outrageous human-sourced foods to crop up. Scientists, food manufacturers, artists and even consumers are getting in on the act, donating breast milk for ice cream and cheese, concocting beer and bread from human yeast, and devising ways to turn human waste into a sustainable protein source.
While these outrageous human-sourced foods may not hit your dinner table anytime soon, one thing's for sure: they're bizarre beyond belief.
1. Human Cheese: Miriam Simun made waves in April when her exhibit at the Michael Mut Gallery, The Lady Cheese Shop debuted human cheese made from the breast milk of three donors. Like most art gallery cheese tastings, this one paired snacks and wines with each breast milk cheese sample.
2. Breast Milk Ice Cream: The Icecreamists ruffled feathers not just in its native U.K., but all over the world when it debuted "Baby Gaga" breast milk ice cream. The Icecreamists solicited breast milk from screened, paid donors. After a brief period in which the ice cream was taken off the market due to public complaints, the ice cream has since returned for sale.
3. Human Poop Patties: Mitsuyuki Ikeda, a Japanese scientist, baffled foodies all over the world with his human poop patties. The curious concoction rankled the blogosphere, and while the jury's still out as to whether the meat made from human feces is legit, we're celebrating its absurdity anyway.
4. Mama's Natural Breakfast: Artist Toi Sennhauser debuted a most unusual breakfast spread at the 2005 Seattle Erotic Art Festival that contained bread made from her own vaginal yeast. Although the Seattle Public Health Department prohibited attendees from eating the vaginal yeast bread, the controversy it inspired persists even today.
5. Oktoberfest Beer: Toi Sennhauser didn't just use her own vaginal yeast to bake bread; she also used it to create what she's termed "Original Pussy Beer," a batch of beer that replaces brewer's yeast with vaginal yeast. Sennhauser unveiled the beer, which was also banned for public consumption, at Crawl Space in 2005.
Image Sources: