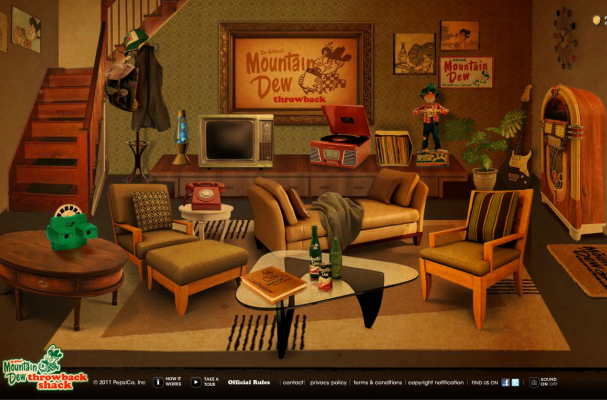 Retro-inspired ad campaigns are all the rage as of late, and the Mountain Dew Throwback Shack aims to inspire nostalgia about Mountain Dew Throwback, which recently returned to the market. The online campaign lives at DewThrowbackShack.com, and lets viewers explore an old-school home packed with interactive features. The kitchen contains a recipe box complete with Mountain Dew recipes, for example, while the great room holds a book filled with user-submitted memories of their first Mountain Dew.
Scattered through the Mountain Dew Throwback Shack are items that website visitors can win, including branded furniture, games and barware, by clicking on the item and clicking "I want it!"
Does the Mountain Dew Throwback Shack make you think lovingly about your first sugar-sweetened soda? Weigh in below.
Image Sources: