I was looking for a spectacular summer dessert to celebrate my sister's birthday and I found a recipe for this awesome watermelon ice cream bombe. It provides the taste of the summer with the decadent pleasure of ice cream. This ice cream bombe is made by freezing layers of lime sherbet, vanilla ice cream, and watermelon sorbet to give the illusion of summer's most iconic melon. I make my own watermelon sorbet for this dessert. All you need is watermelon, sugar, water and of course an ice cream maker. The photo above is by Hannah Kaminsky from BitterSweet who makes a vegan version of this frozen delight.
Ingredients:
1/2 gallon lime sherbet
1 pint vanilla ice cream
3 cups watermelon, cubed
1 cup sugar
4 Chocolate Wafers broken into 1/4" pieces or mini chocolate chips
For full recipe instructions, click below
Image Sources: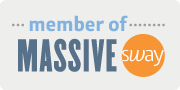 Want more from Foodista? Sign up below!