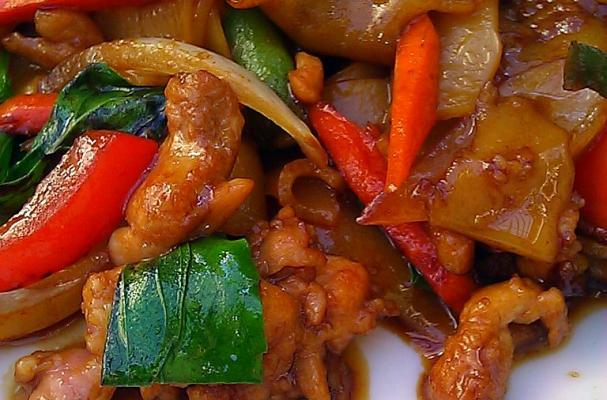 Drunken Noodles, also known as Pad Kee Mow, is a typical Chinese-inspired dish found in both Thailand and Laos. Wide, silky noodles are used, which are then smothered in a tasty sauce featuring garlic, hot chiles, basil and more. Try it also with beef, pork or tofu and your favorite vegetables.
Thai Drunken Noodles With Chicken
Serves 4
1 pound wide fresh flat rice noodles (sen yai)
2 teaspoons soy sauce
4 garlic cloves
4 bird's eye chiles, stems removed
4 tablespoons vegetable oil
7 ounces boneless, skinless chicken breasts, cut into strips
2 carrots, peeled and thinly sliced
1 small yellow onion, thinly sliced
1 large red bell pepper, thinly sliced
2 tablespoons fish sauce
2 tablespoons palm sugar
1 cup Thai (or holy) basil leaves
Click below for the full recipe and instructions:
Want more from Foodista? Sign up below!