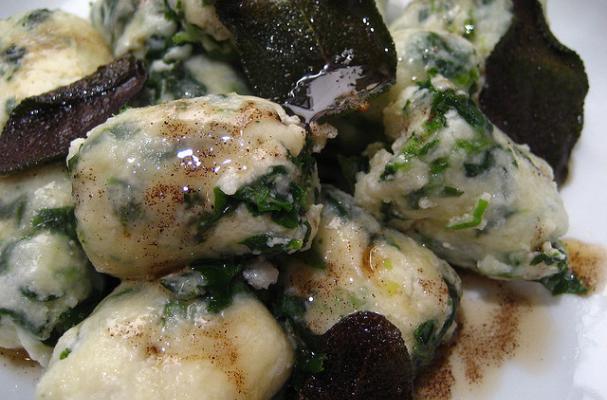 As we approach fall, I begin to yearn for warm comforting meals, usually in the form of a pasta. Back in the day, before I had a toddler trailing me in the kitchen, I loved to make my own fresh pasta. Oh, how those days are gone! I still enjoy a good handmade pasta, but these days I spend more time on the sauce than its vehicle. Also, I find there's an abundance of good dried varieties that are considerably less expensive than fresh packaged pasta and just as good.
Below are some of our family's favorite Italian dishes. But before heading down the dried pasta aisle, I want to share a simple and delicious recipe for malfatti. This cousin of gnocchi is an easy-to-make (even with a toddler!) ricotta-spinach dumpling that's wonderful with any sauce. Try a quick brown butter sauce.
Making a tomato-based sauce? Double (or triple!) the recipe and freeze the extra for later. You'll thank yourself after a long day at work when the family asks what's for dinner?
Buon appetito!
Spinach Malfatti With Sage Brown Butter Sauce
Malfatti means "bad made" in Italian, but what these easy-to-make dumplings lack in physical beauty, they far make up for in flavor!
Pappardelle With Bolognese
A hearty Bolognese meat sauce goes well with just about any pasta, but I love mine generously spooned over wide noodles.
Easy Spinach Pesto Lasagne
No-boil noodles saves time in creating this delicious red and green layered dish.
Tortellini in Pancetta Cream Sauce
This creamy bacon sauce works well with just about any type of tortellini. Try plain cheese, spinach or mushroom filled tortellini.
Tortellini in Brodo
Whether you've just come in from the cold, have a cold, or just want a nice and easy meal, tortellini in a good broth will do just the trick. All you need is packaged or frozen tortellini, chicken broth, and a lemon.
Baked Rigatoni With Sausage
A tasty sausage, such as an Italian sausage with fennel and herbs, makes this baked dish extra flavorful.
Classic Mac and Cheese
A dish for every age! We like ours with a good sharp cheddar cheese.
Ham and Peas Farfalle In Creamy Lemon Parmesan Sauce
Beautiful farfalle (butterfly in Italian) are dressed up in a bright, creamy lemon sauce, then tossed with ham and peas. Mmm..
Baked Cheese Manicotti
A bit of nutmeg adds a beautiful compliment to the richness of this dish.
Spaghetti alla Carbonara
Legend has it that during World War II American soldiers in Rome would bring their Italian friends eggs and bacon and ask them to make a pasta dish, thus becoming pasta alla carbonara. Another legend claims that carbonara, a derivative of the word carbon in Italian, was made for charcoal workers. Who really knows how eggs and bacon became transformed into a distinctively Roman pasta dish. One thing is for sure, with the bacon grease that's used it is certainly a meal hearty enough for a soldier or charcoal worker.