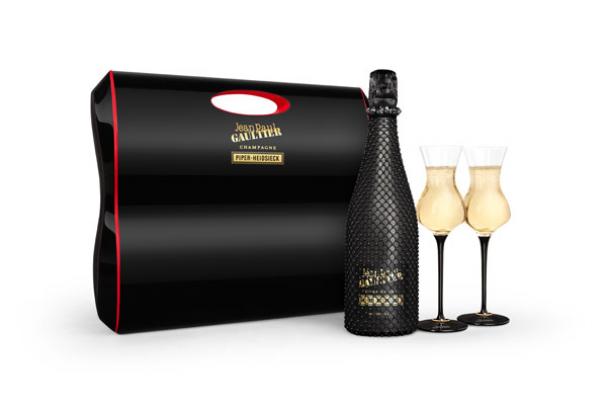 Piper-Heidsieck has teamed up with legendary fashion designer Jean Paul Gaultier to release two new lines of bubbly: the Piper-Heidsieck French Cancan and the Black Cancan Millesime 2000. The lines are inspired by a masquerade, and feature several sensual touches: The Black Cancan Millesime 2000 is packaged in a crystallized Swarovski stocking with a studded crystal collar, while the French Cancan bottle is packaged in a fishnet stocking and sealed with a latex eye mask.
The gift case that comes with the Jean Paul Gaultier collaboration with Piper-Heidsieck includes two curvaceous flutes adorned with "gold harness rings," as Refinery 29 so delicately puts it. If one of these bottles of bubbly doesn't get your night started off on the right foot, I'm not sure what will!
Image Sources:
Want more from Foodista? Sign up below!