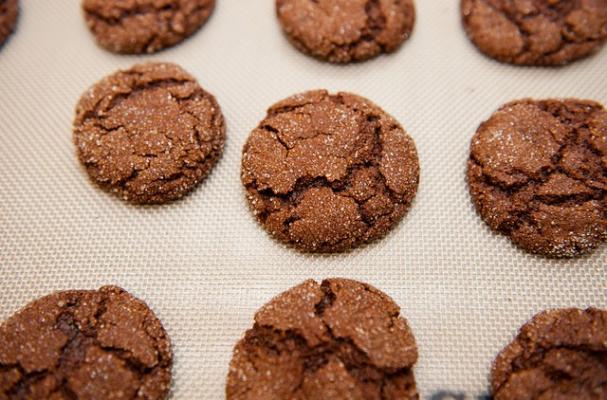 If you are participating in a holiday cookie exchange this year, try baking these marvelous molasses ginger cookies. This recipe makes for 14 large cookies but feel free to make the cookies smaller if you need more, adjust the baking time to 10-12 minutes. Just the smell of these delicious molasses ginger cookies baking in the oven will put you in the holiday spirit.
Ingredients:
2 1/4 cups flour
2 tsp baking soda
1/4 tsp salt
1 tsp ground cinnamon
1 tsp ground ginger
1/2 tsp ground cloves
6 oz (1 1/2 sticks) unsalted butter, at room temperature
1 cup packed light brown sugar
1 egg
1/4 cup molasses
About 1/4 cup sugar
Directions:
Preheat the oven to 350, rack in the middle position. Line two baking sheets with parchment paper or non-stick mats.
In a bowl, sift the flour, baking soda, salt, cinnamon, ginger and cloves and set aside.
Using a mixer or by hand, blend butter and brown sugar until well combined, about 1 minute (if using a mixer, scrape the sides of the bowl). Add the egg and molasses and mix until blended and light brown in color, about 1 minute. Add the flour mixture, mixing just to incorporate it.
Pour sugar on a large piece of wax paper or a plate. Roll 3 tablespoons of the dough between your palms into a 2-inch ball. Roll each ball in the sugar and place it on the prepared baking sheets, spaced 2 inches apart.
Bake for 12-14 minutes or until the tops of the cookies feel firm and have several large cracks but the insides are still soft.
Remove from the oven and cool for 5 minutes, then use a wide spatula to transfer cookies to a wire rack to cool completely. May be stored in airtight container at room temperature for up to 4 days.
Image Sources: