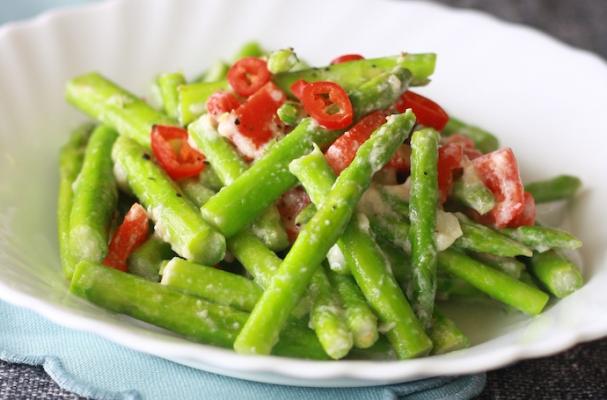 Season with Spice is a food blog notorious for introducing its readers to the flavors of the East. Their recipe for stir-fried asparagus with lemongrass is a perfect example of that. Thin spring asparagus is quickly cooked with fragrant lemongrass, coconut milk, garlic, and chili. You can serve this dynamite dish with lime marinated chicken and brown rice.
Ingredients:
10 large asparagus - snapped into 2 inch length pieces
2 tbsp vegetable oil
2 stalks lemongrass - outer leaves removed and ends trimmed off, then remaining stalk chopped finely
2 cloves garlic - peeled and chopped finely
1/4 cup coconut milk
2 tbsp water
1/4 red bell pepper - diced into small squares
1 Thai bird's eye chili pepper - halved (optional)
2 tsp fish sauce
Salt to taste
Ground black pepper or white pepper
Red chili peppers (serrano chili) - deseeded and thinly sliced for garnish
Image Sources:
Want more from Foodista? Sign up below!