Blk mineral water will have you consumed with the dark side. The water is infused with fulvic acid, which turns the otherwise-clear liquid an eerie black. What's even cooler than this dark water, though, is its packaging. As you consume the water, black writing appears that reads, "Enjoy the Dark Side."
If you're not sold on drinking black water, check out another water substitute that's gaining mainstream market share: coconut water.
Image Sources: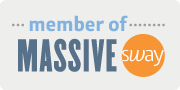 Want more from Foodista? Sign up below!