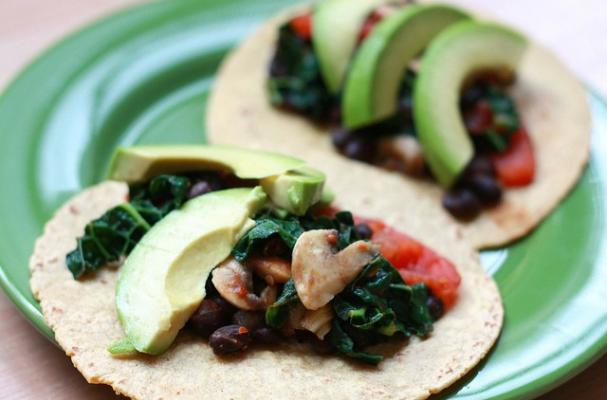 These roasted vegetable tacos from The Roasted Root are a dynamite meatless meal. Cubes of sweet potato, pasilla pepper, and red bell pepper are tossed in aromatic spices before being roasted until they are golden brown and caramelized. If you are doing a lot of outdoor cooking, you can also grill up these veggies. Top these tacos with queso fresco (also known as cotija) and slices of creamy avocado.
Ingredients:
1 small sweet potato, chopped
1 pasilla pepper, chopped
1 red bell pepper, chopped
½ red onion, sliced
1 tablespoon chili powder
1 teaspoon paprika
1 teaspoon cumin
1 teaspoon salt or to taste
1 tablespoon grapeseed or olive oil
4 tablespoons vegetable or chicken stock
1 tablespoon apple cider vinegar
1 ear corn, boiled and kernels removed
1 can black beans, drained
Toppings:
Queso fresco or Goat cheese
Green onion
Avocado
Directions:
Preheat the oven to 375 degrees. In a casserole dish, add the chopped sweet potato, pasilla pepper, bell pepper and onion. In a small bowl, combine the chicken stock, oil and vinegar. Mix to combine and pour evenly over the vegetables. Sprinkle the chili powder, cumin, paprika, and salt over the veggies and stir. Bake in for 30 minutes. Remove the casserole dish from the oven, stir everything well, increase oven heat to 400 and bake 7 to 10 more minutes. Remove from oven and allow to cool slightly.
While the vegetables are roasting in the oven, you can cook the corn by boiling it in hot water for 5 to 7 minutes or grilling it. Carefully remove the kernels with a sharp knife. Heat the black beans in a sauce pan. Chop the goat cheese.
Heat your favorite tortillas, place desired amount of ingredients in the tortillas and add extra goodies such as guacamole, salsa and green onion if desire
Image Sources: