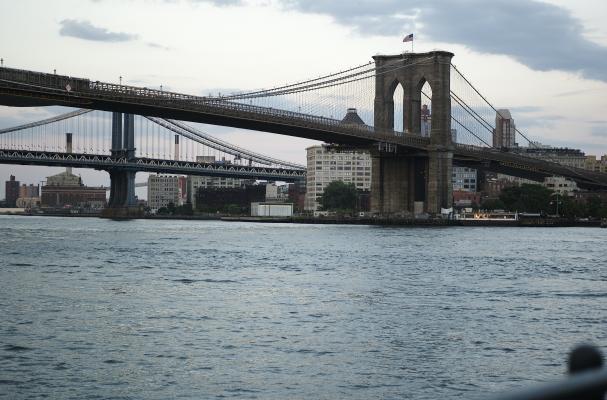 I love having the opportunity to share good deeds by others. Especially when companies are "doing the right thing" by giving back to the community.
This post takes a completely different approach to my usual story and a cocktail. My friend Lori Lengua from the NYC based agency named Make it Known PR asked me to share a couple of pro-social events that she is involved with.
Foodista has considerable influence in the food/wine and cocktailian arts. I thought it appropriate to add to this influence two important events. One is NYC centric, the other on a national scale. Whatever your thoughts are, I hope you consider supporting these worthy and I believe pro-social events in your own way.
The first event is national in scale. Frederick Wildman and Sons from NYC distributes wines from all over the globe. When I read that they supported ovarian cancer research, I wanted to share their desire to give back.
TURN THE TOWNS TEAL, INC.® and FREDERICK WILDMAN AND SONS, LTD.
A PROGRESSIVE PARTNERSHIP IN THE CRUSADE FOR OVARIAN CANCER AWARENESS

FOLONARI, a brand synonymous with Pinot Grigio, and Frederick Wildman and Sons, Ltd., are once again 'TEALING' the US this September during National Ovarian Cancer Awareness Month.

In its third year since the inception in 2007 of the TURN THE TOWNS TEAL organization, Wildman is following the path of this crusade by 'giving back'. "'TEALING' and Folonari go hand in hand, once again," says Kowalsky, Marketing Director for Wildman's National Brands division. "We are very proud of what we have been able to accomplish in the little time we began this partnership, and look forward to many more years of awareness and great contribution." Volunteers across the nation will 'teal' towns by displaying ribbons on trees, lamp posts, and fences as a sign of awareness, and wine stores from neighborhood to neighborhood will sponsor wine promotions all over their states to demonstrate additional support for the campaign.

Ovarian cancer is often referred to as "the Silent Disease" as its symptoms are often vague and subtle. Since there is no early detection test for ovarian cancer, it is critical for women to become aware of its known symptoms in order to catch the cancer at an early stage (survival rate for ovarian cancer is 90-95% when detected early!). Hence, an awareness campaign of this sort is critical.

"We are so grateful for the tremendous support of retail and distributor partners across the United States," explained Richard Cacciato, President of Frederick Wildman and Sons, "The Turn the Towns Teal campaign will continue saving lives with this essential awareness campaign," continued Cacciato. "Our efforts in the last three years have been so successful—we raised over $20,000 in 2012—we are hopeful to continue the trend and increase those numbers to levels that will, one day, make a difference!"

Supermarkets and retailers will see 'teal' everywhere! The ribbons on trees across towns will complement ribbons and information cards on [wine store] shelves. As in the past, for every bottle of Folonari sold throughout the month of September, a donation of .50¢ will be made to the Turn The Towns Teal, Inc.® organization. Wine aficionados will quickly become "aware" of ovarian cancer month through 'neckers' found on every bottle of Folonari , each depicting precise information on symptoms every woman of every age needs to know.


For more information on Frederick Wildman and Sons' September Turn the Towns Teal wine campaign, visit any of the following sites: turnthetownsteal.frederickwildman.com or Facebook.com/frederickwildman as well as www.turnthetownsteal.org


Turn The Towns Teal, Inc. ® is a 501 ©(3) organization and it is entering its fourth year of awareness.For more information and to volunteer in "tealing" a town, contact Jane MacNeil @ www.turnthetownsteal.org.


ABOUT FREDERICK WILDMAN AND SONS:
Importers of fine wines and spirits since 1934, Frederick Wildman and Sons, Ltd., is committed to excellence, and is a major force in the world of wine in the United States. The familiar Wildman oval found on every bottle sold is recognized around the world as a symbol of quality assurance. The company has become what Frederick Wildman's president and CEO Richard Cacciato calls "the biggest little wine company in America."
The second event is more NYC centric.
I'm a true fan of Spanish Wine and culture. My parents took me to Spain several times as a boy and although I read that the country is having troubles in the financial community, the passion of the wine-makers and the people who love Spanish wines and food have not diminished.
Spain is a enthusiastic country of many cultures. Their wines, beers and foods all exemplify what I believe is true ambition for life, Spanish Style!
I love Paella. It's a wonder to me that this dish of Spanish rice, saffron, shellfish and meat is not more popular in the USA. There is everything in one pot! The wines that go with Paella run the gamut of spice to crisp to full bodied to- well, that's up to you. I love Sparkling Cider with my paella, but whatever you choose, please enjoy the fruits of your labor.
If you are local to the New York area, please mark your calendar for this event. A Paella Parade!!
El Coto de Rioja's Paella Parade Brings Good Cheer back to the Big Apple!
A toast to the Enjoyment of Spanish Culture, Cuisine and the Leading Rioja Wines this October!

WHAT/WHO: Once again, the El Coto de Rioja Paella Parade, a celebration of Spanish food, wine and culture, comes to life in NYC. Following its successes in the Big Apple and other cities throughout the U.S. since 2008, ten Metro-area chefs will come together to celebrate Spain and showcase NYC's top Paella-making skills. Guests will indulge in each chef's unique version of Spain's most beloved signature dish during the celebration while sipping on delicious wines from El Coto de Rioja.

WHY: The El Coto de Rioja Paella Parade builds on its tradition of bringing together the best Metro-area chefs and their passion for the flavors of Spain. Guests will have the opportunity to taste a trio of wines from leading Rioja winery, El Coto de Rioja, as well as discover the best Spanish cuisine Metro New York has to offer while watching local chefs as they prepare their top Paellas for the celebration. Held at the Beekman Beer Garden (formerly known as Water Taxi Beach), the scenic backdrop brings the essence of la buena vida— delicious traditional food and wine and mouth-watering (pun intended!) NYC views! Best of all, the El Coto Paella Parade gives something back, too! A minimum of 10% percent of the proceeds will benefit, as in the past, Action Against Hunger and the Hospitality Department at New York City College of Technology, CUNY.

WHERE/WHEN:
Beekman Beer Garden
North Side of Pier 17
South Street Seaport
New York City
Monday, October 1st
6:00 PM – 9:00 PM
Tickets
$50 for one / $90 for two
elcotopaellaparade.com
http://paellaparade.frederickwildman.com/

ADDITINAL EL COTO DE RIOJA PAELLA PARADE ATTRACTIONS
· Month-long in-store promotions at a Metro-area STEW LEONARD'S store near you and @ Chelsea Wine Vault in NYC! For a complete listing of events, visit elcotopaellaparade.com
· El Coto de Rioja Wine: Winery representatives will pour a trio of wines from one of the top Rioja wine producers, El Coto de Rioja including El Coto Blanco, Rosado and Crianza
Want more from Foodista? Sign up below!