Venus Williams just celebrated her very first New York Fashion Week as a designer and Grey Goose wanted to help her celebrate by making a Venus-inspired cocktail. Called The MaVen, the tennis star didn't provide any details about what is in the cocktail, other than Grey Goose vodka of course.
"I can't believe #GREYGOOSE created a drink named after me!" Venus tweeted. "The guests at my EleVen by Venus Williams presentation seemed to love The MaVen!"
Image Sources:
Categories: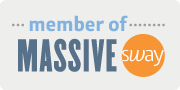 Want more from Foodista? Sign up below!