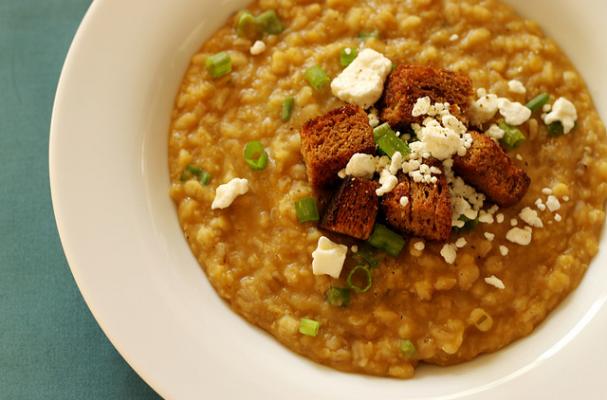 Curried lentil and spinach soup is warm and comforting. Not only is this soup delicious but it's also healthy. Lentils are packed with vitamins and a great source of protein. Spinach is rich in antioxidants and a good source of vitamin A. You can make this soup any night of the week and feel good about yourself and what you are eating.
Ingredients:
1 tablespoon light olive oil
1 large onion, finely chopped
4 cups red lentils, rinsed
1 teaspoon to 2 good-quality curry powder
1 10-ounce package frozen chopped spinach, thawed
6 cups water or vegetable stock
Salt to taste
Directions:
Heat the oil in a soup pot. Add the onion and sauté over medium heat until golden.
Add the lentils and 6 cups water and bring to a simmer. Stir in 1 teaspoon curry powder, cover, and simmer very gently for 35 to 40 minutes.
When the lentils are mushy, stir in the spinach and check the consistency. If the soup is too thick, add about 4 cups water. Season with salt and additional curry powder, if desired.
Simmer for another 5 minutes. If time allows, let the soup stand off the heat for an hour or so to develop flavor. Heat through as needed before serving
Image Sources:
Want more from Foodista? Sign up below!