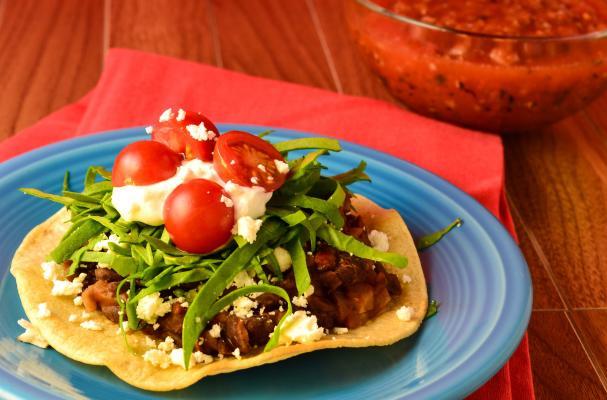 Gluten-free vegetarian tostadas by Oishii Treats are totally delicious. This meatless version of a classic Mexican dish is filled with black beans, spinach, tomatoes and feta. You can choose to cook dried black beans and season them to your taste or for quicker results, you can use canned beans. When buying the corn tortillas or tostas, make sure to read the label carefully to verify that the food is not produced with machinery that is contaminated with wheat.
Serve these vegetarian tostadas with a cold Mexican beer and lime.
Gluten-Free Vegetarian Tostadas
Ingredients:
4 White or Yellow Corn Tortillas
1 15oz can of Black Beans (drained)
1/4 Cup onions diced
1 clove Garlic minced
1/2 tablespoon Olive Oil
1-3 Chiles in Adobo Sauce (diced)
1 1/2 Cup Spinach (sliced julienne style)
Spinkle of dried basil and garlic sea salt (for black beans)
8 Cherry Tomatoes (halved)
Feta Cheese
Sour Cream
your favorite salsa
Directions:
Heat a large saute pan on medium high heat. Saute your onions and garlic in olive oil for 2-3 minutes.
Place your balck beans (BB) in a microwavble safe container and add the sauted onions and garilc to the BB.
Add the diced chiles in adobo sauce to the BB. Sprinkle in some dried basil and garilc sea salt. Stir and microwave for 2 minutes, using a potato masher mash the warm BB to your desired consistency and return to the microwave for 1 minute.
Meanwhile take a paper towel and using the same saute pan wipe out any excess oil or browning from the onions. Spray with cooking oil and on high heat, toast your tortillas until crsipy anywhere from 5 to 10 minutes.
Assemble your tostadas by placing the beans on top, sprinkle with feta, top with spinach, sliced cherry tomatoes, dollop of sour cream and sprinkle with more feta and salsa
Image Sources:
Want more from Foodista? Sign up below!