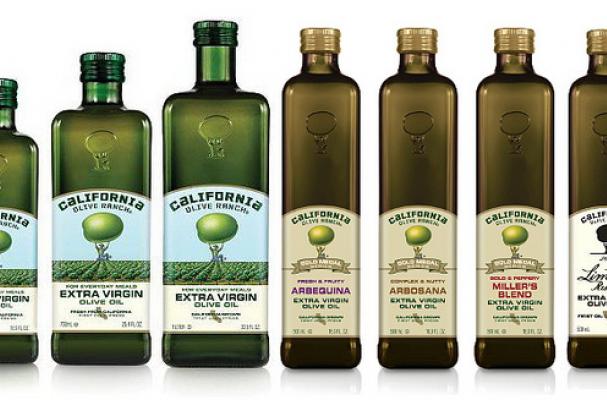 There's good wine and there's bad wine. The same rings true for olive oil, but many of us don't think to taste olive oil the way we do wine. Unfortunately, U.S. supermarket shelves are laden with mostly inferior oils labeled as "olive oil" (see why here). But when you taste the difference, you'll never buy that big jug at Costco again.
California Olive Ranch believes in making great olive oil available to everyone. "We're so passionate about the quality of our olive oil, that we grown and harvest our olives with the same care that California wine makers apply to their grapes. We press our olives within hours of picking to seal in the fresh taste." They also believe you should know exactly where the olives in your olive oil come from and how fresh it is, so every bottle includes the harvest date. Read more about their heritage and their sustainable ranches.
So, how should you choose the right oil for your meal? Below is a guide for selecting just the right oil for the right type of food - from the everyday oil to a limited reserve oil.
For an everyday oil go with their Extra Virgin Olive Oil which has a smooth flavor, floral aroma and hints of green apple. It's delicate, mild and versatile and is great for baking, sautéing, and roasting.
For salad dressings, pesto, or even drizzled over ice cream try the Arbequina Single Varietal Extra Virgin Olive Oil, a fresh and fruity oil with flavors of tropical fruit and fresh artichoke.
Their Arbosana, another Single Varietal EVOO, is a complex and nutty oil with flavors of fresh tomato and almonds. Try it on bruschetta, drizzled on top of soups, or with chocolate!
The Miller's Blend is aptly named because it is indeed their miller's favorite. It has a fruity beginning balanced with a bit of pepper at the end. This EVOO is excellent with dishes containing blue cheese or strong, spicy flavors.
The Limited Reserve Extra Virgin Olive Oil is only seasonally available (sign up for 2012 availability!), and is California Olive Ranch's freshest tasting olive oil. It's fruity with grassy notes and is bottled unfiltered from the press which gives it a burst of flavor intensity. Try it drizzled on top of grilled meats and vegetables.
Check out their gift box sets, too! The Chef's Favorite 2-Bottle Gift Box includes the Miller's Blend and Arbequina, the two preferred by their top chef partners. And, the Kitchen Essentials 3-Bottle Gift Box which includes the Arbequina, Arbosana, and the Miller's Blend.
Read about Foodista Wine Editor Jameson Fink's tasting experience at California Olive Ranch.
Disclosure: This post is part of a cross-promotional sweepstakes that will run Nov. 5-8, 2012. Foodista received no payment for this post or promotional activities. Check back on Foodista.com Monday, 11-5 at 9am PST for details about our sweepstakes!