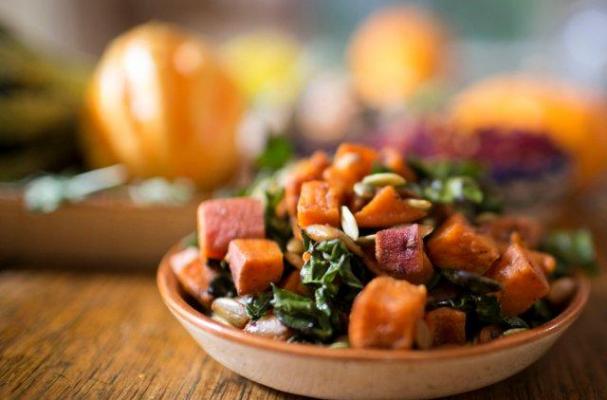 This Thanksgiving put away you bag of spring mix and toss together this red yam and kale salad instead. This recipe comes from FEED Body & Soul, a restaurant in Venice, California that is focusing on serving dishes with local and sustainable ingredients. This salad packs a powerful punch of flavor; the cumin and chili powder really stand out against the sweet red yam. If you have a favorite Thanksgiving recipe, please share it with Foodista and it just might end up on the blog.
Red Yam and Kale Salad
Ingredients:
2 Red Yams
2 tsp Extra Virgin Olive Oil
½ tsp Kosher Salt
1/8 tsp Cracked Black Pepper
1/8 tsp Ground Cumin
½ tsp Chili Powder
1 tbsp Amber Honey
¼ c. pepitas
12 Kale Ribbons (do not use ribs)
1 tsp Extra Virgin Olive Oil
Directions:
1. Dice yams to make 4 cups, and toss with oil, salt, pepper, cumin and chili powder
2. Get your blackening pan hot and add yams. Cook on the burner for about 30 seconds just jostling the yams about to and fro
3. Stick it in a 400 degree oven and cook for 20 minutes, or until the yams are soft. If you're feeling adventurous, toss that blackening pan halfway while the yams are cooking in the oven for even cooking
4. Dump yams into a bowl, toss with the honey, and put pan onto the burner on medium heat. Add pepitas and toast until toasty (NOTE: do not clean or wipe the pan)
5. This time, get the pan screaming hot, add kale ribbons (1 ½ cup) and start to blacken (do not use the ribs). After 1 minute, sprinkle 1 tsp of extra virgin olive oil onto greens and toss]
Want more from Foodista? Sign up below!