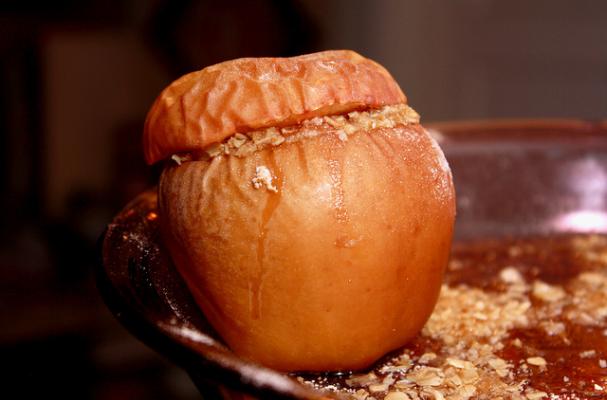 If you are watching your waistline, these honey baked apples from Helen's Cooking will satisfy your sweet tooth without the guilt. Depending on what you like, you can use either a more tart apple, like Granny Smith, or sweet apple, such as Honey Crisp, for this recipe, Each apple is cored and filled with cinnamon, honey, walnuts, and a tad of butter. When the apples are baked, they become soft and almost buttery. Honey baked apples are a sweet replacement for any dessert craving.
Ingredients:
9 apples
1 cup of walnuts, chopped
1-2 teaspoons of cinnamon powder
2-3 tablespoons of honey
¼ stick of butter
Directions:
Step 1: Wash and take the seeds out of the apple as shown in the picture.
Step 2: Crush the walnuts, add some honey, cinnamon, melted butter and honey. Mix very well.
Step 3: Preheat the oven at 350 F. Put the stuffing (walnuts with honey, cinnamon and butter) inside the apples, place in a deep baking dish, add some water.
Step 4: Bake for 25-30 minutes and serve warm.
Enjoy!
***Tip from Helen*** I prefer mid-sized red apples for this dish, but green will also be fine. Just they shouldn't be too firm. Yellow apples won't taste as good, because they will be too sweet and soft ***
Image Sources: