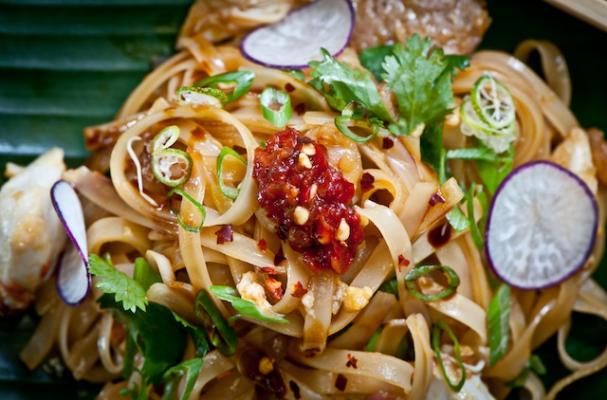 Chef Andy Oh from Pan Pacific Orchard Hotel in Singapore loves to make peddlers' noodles for hotel guests. Otherwise known as char kway teow, these stir fried rice noodles are combined with a myriad of ingredients including prawns, crab, Chinese sausage and more. It is a favorite among locals and tourists alike. The recipe below is a single portion. If you want to sample peddler's noodles at a restaurant before making them at home, Omni Hotels and Resorts will be serving them on their new street food menu.
Famous Peddlers Noodles - Char Kway Teow
Serves 1
Noodle Ingredients:
5 oz Rice Noodles, Flat
1/2 cup Tiger Prawns (deveined & cleaned)
4 tsp Chinese Sausage
4 tsp Crabmeat
4 tsp Bean Sprouts
2 tsp Chives
1 ea. Egg, Whole
2 tsp Chili Paste, Dry
2 tsp Garlic, Minced
2 tsp Pork Lard, Crispy
Kway Teow Sauce:
2 TB Kway Teow Sauce (kecap manis, optional)
1/4 cup. Soy Sauce, Light
3 TB Soy Sauce, Dark
4 tsp Oyster Sauce
2 TB Sugar
2 tsp Fish Gravy
Vegetable Oil and/or Pork Lard Oil
Directions:
1. Heat up wok with generous portion of vegetable oil and pork lard oil
2. Bring to temperature and fry prawn in the wok until half cooked
3. Remove and drain off excess oil. Add garlic and chili paste to remaining oil until opaque
4. Add in prawns together with Chinese sausages and crispy pork lard
5. Stir to fragrance and add in Kway Teow Sauce
6. Season with sauce and fry to aromatics
7. Add in bean sprouts and chives
8. Crack in egg followed by crabmeat
9. Fry for no more than half a minute and serve immediately
Image Sources:
Categories:
Want more from Foodista? Sign up below!