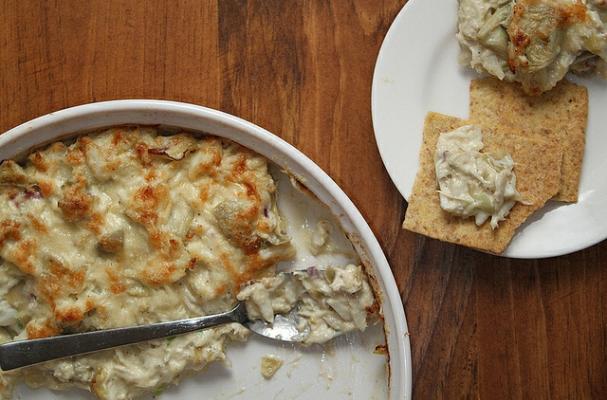 What would a celebration be without the crabmeat dip? On our farm, there is no such thing!
This a great way to have a taste of seafood without the sticker shock, and also a nice way to introduce seafood to party goers who may not get it that often. Take the work out of cleaning the crab by buying a can of it already cleaned and flaked. It's not that much money and one can makes the entire recipe.
Be warned that this is a rich dish! Once you start eating it the richness doesn't catch up with you until later. So enjoy responsibly.
8 ounces pkg cream cheese, softened
1 tablespoon milk
1 can crabmeat, flaked
2 tablespoons finely chopped onion
1/2 teaspoon horseradish
1/8 cup breadcrumbs
2 tablespoons butter, cut into small bits
salt, pepper
Crazy for crab? Check out this list of recipe ideas:
Hot Dungeness Crab Dip
Crab-Meat Canapes
Hot Maryland Crab Dip
Fresh Picked Crab Dip
Crab Appetizers
Crab Gumbo
Deep-Fried Crabs
Baked Crabmeat
Crabmeat Ravioli
Image Sources:
Want more from Foodista? Sign up below!