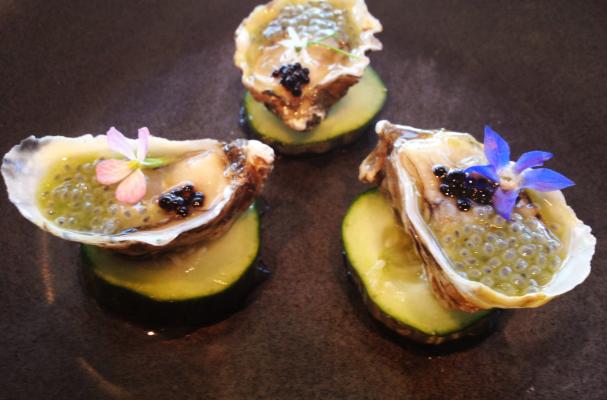 Here in Seattle we love our oysters! And we love this Kumamoto oyster recipe from acclaimed Executive Chef John Cox from the award-winning Sierra Mar Restaurant at Post Ranch Inn, a luxurious natural sanctuary nestled atop the cliffs of Big Sur. Make this elegant and delicious dish for your next party.
Kumamoto Oysters with Basil Seeds, Cucumber and Lemon Verbena
For 1 dozen fresh oysters
Cucumber Juice
2 cucumbers
6 lemon verbena leaves
1 cup spinach
1 cup basil
12 mint leaves
1 lime leaf

Thoroughly wash all ingredients. Put all ingredients through juicer or blender. Strain through a fine mesh sieve

Basil Seeds
1 cup dried basil seeds (look for the Thai variety at Asian markets, not at garden centers)
3 tbs water
3 tbs lime juice
1 tsp sugar
6 basil leaves

Bring water, lime juice and sugar to a simmer in a small pot. Steep the basil leaves for three minutes in the warm water. Strain. Pour over the dried seeds. Gently mix with rubber spatula until seeds are hydrated.

Balsamic Caviar
2.5 grams Agar Agar
100 grams Balsamic Vinegar
1 gallon – cold- olive oil

Simmer the balsamic and agar over low heat until agar is completely dissolved. Blend with hand mixer to fully emulsify. Put the warm liquid into a squeeze bottle with very small tip. Remove the olive oil from refrigerator and drip balsamic into cold oil. Use a deep container for oil so that spheres form before hitting the bottom. Remove spheres with slotted spoon. You may keep the olive oil and reuse again for this purpose.

Garnish
Borage Flowers
Arugula Flowers
Wild Mustard Flowers
Categories: