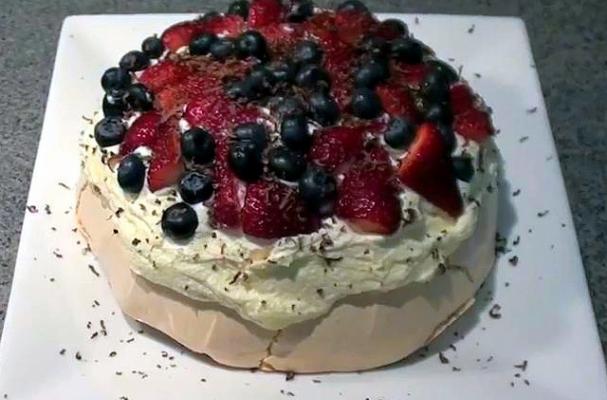 Cooking With Karma shows us how to make the perfect pavlova, a fluffy meringue dessert topped with cream and fresh berries. Watch and get the pavlova recipe below.
Well hi and welcome to Cooking with Karma and in my last video I asked you what was your party food and as I said, I was going to take one of your suggestions and make that in my video today. So that's what I've done. Now, the suggestions come from Shaun's Food. Now, Shaun actually has a really great cooking channel here on YouTube, so if you haven't already, click on that link and go and check it out. Now he suggested Pavlova. I just couldn't go past it because after we throw our shrimp on the barbie here in Australia; we like to tuck into a little Pav so I'm going to show you how to make one.
Into a bowl we're going to whisk up five egg whites and we're going to whisk these until they're light and fluffy and form soft peaks. Then we're going to add in our caster sugar, just add in a little at a time and giving a whisk in between. Once that's become beautiful and glossy we're going to sift in two tablespoons of corn flour. Then add two teaspoons of white vinegar and a little dash of vanilla then mix until well combined. If you can turn your bowl over without the mixture coming out, then you know you're done. We're then going to place our mixture on to a tray alone with baking paper. You simply take a spatula and smooth it out until you have your desired shape.
Now our oven's been preheated to 150ºC, we're going to drop that temperature down to 120, we're going to pop that Pav in there for an hour and 20 minutes. Once that time's up, we're going to turn the oven off, leave the door ajar and we're going to let that come down to room temperature and then we're ready to decorate it. Once our Pavlova's had time to cool, we're going to whisk up one and half cups of cream until it's thick and creamy and we're going to take that cream and just simply cover the top of the Pavlova. Add some strawberries and some blueberries, grate on some chocolate and then we're done. The outer shell is so beautiful and crispy while the inside is so light and fluffy. Yum-o, I absolutely love Pavlova, it is so simple to make and obviously you can put whatever topping on that that you like. Now I really hope you enjoy that recipe and you give it a go. And I'll see you next time on Cooking with Karma.
Pavlova
5 egg whites
1 ¼ cup caster sugar
2 tablespoons cornflour (cornstarch)
2 teaspoons of white vinegar
1 ½ cups of cream
strawberries, blueberries and chocolate to decorate
Pre-heat oven at 150 degrees celsius (300F) then drop it down to 120 degrees celsius (250F) and bake for 1 hour and 20 minutes. After that time, turn oven off, leave door ajar and let cool to room temp before decorating.