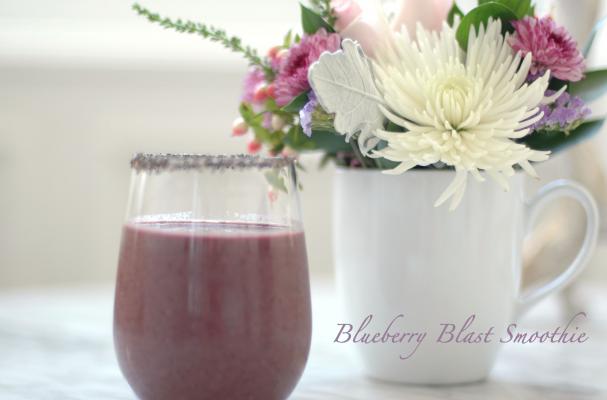 There is a thinking among a few well respected health gurus here in New York that as we age our metabolism slows. As a result, they believe, our bodies are no longer able to process three meals a day plus snacks like we all used to do. Ultimately, we see the effects in tired skin and a few extra pounds. They suggest one way to help keep a healthy, active metabolism is by swapping in a nutritious smoothie or fresh vegetable juice in place of one meal or snack, each day. This breakfast smoothie, made with frozen blueberries, creamy banana, sweet apple, tender spinach, almond milk and chia seeds is a current favorite of mine. Sometimes, I'll add a scoop of a good quality protein powder if I'm having a late lunch.
Looking for more smoothie recipes? Head over here.
Blueberry Blast
Don't be intimidated by the addition of the baby spinach. When you let the ingredients blend together for a long enough time, the spinach just melts into the smoothie. You won't even know it's there...but you'll get the benefit of all those yummy nutrients.
Serving Size: 1 (300 calories per serving)
Ingredients
1 cup blueberries, frozen

1/2 cup strawberries, frozen

1/2 banana, frozen

1/2 small red apple, peeled and cored

1 cup almond milk

3/4 cup water

1 heaping tablespoon chia seeds

1 handful baby spinach

Better-for-you ingredients
Learn more about the better-for-you ingredients in this recipe:

* Blueberries – Berries, including blueberries, blackberries, raspberries, and strawberries are rich in disease-fighting antioxidants. A daily dose of the bioactive ingredients from blueberries also increases sensitivity to insulin and may reduce the risk of developing diabetes.
* Chia seeds – Chia seeds are rich in good-for-you Omega 3 and Omega 6 healthy fats which support a healthy brain and a strong immune system. 

Directions
Place ingredients into a good powerful blender until smooth and creamy. Thin with water or thicken with ice if desired. Enjoy!
Categories: