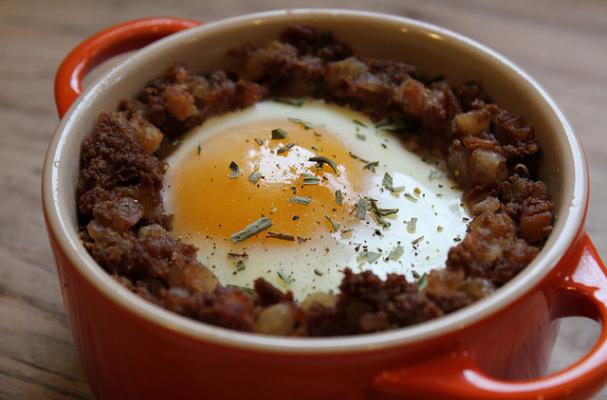 Love a hearty diner-style breakfast? You'll love these easy Corned Beef Hash Egg Cups! Each spoonful is the perfect bite of corned beef hash and egg. Try it with buttery toast for dipping, too.
Corned Beef Hash Egg Cups
2 servings
1 16-ounce can corned beef hash
2 eggs
Freshly ground black pepper
Pinch dried tarragon (optional)
Preheat oven to 375° F.
Sauté corned beef in a skillet over medium-high heat until browned.
Divide equally into two 8-ounce ramekins. Using the back of a teaspoon mold hash against the sides and bottom of the ramekins creating a cup form.
Crack an egg into each of the hash cups, top with freshly ground black pepper and a pinch of tarragon and place uncovered in the oven. Cook until egg has set to your preferred doneness.

Looking for the cute Le Creuset petite cocotte used in our photo (they have lids, too!)? Get them here: