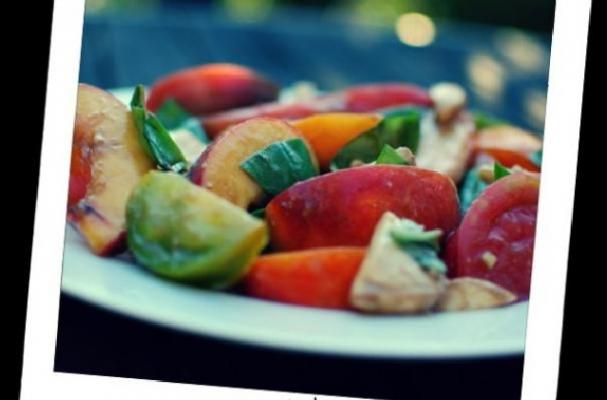 This caprese salad recipe from european cutie has a fruity twist. In addition to classic summer tomatoes, mozzarella and basil, slices of sweet peaches are layered in the salad. You can keep the peaches raw or for a difference in flavor and texture, grill them for a few minutes on each side. This combination is also delicious in the form of a panini.
Ingredients:
For the salad:
2 pounds ripe heirloom tomatoes, sliced into wedges or chunks
1 pound ripe peaches, sliced into wedges or chunks
10 ounces fresh mozzarella cheese, chopped
A handful or two of fresh basil leaves, roughly chopped
For the dressing:
¼ cup balsamic vinegar
½ cup extra virgin olive oil
1 teaspoon dijon mustard
2 cloves garlic, chopped
1 teaspoon dark brown sugar
Kosher salt
Freshly ground black pepper
Image Sources:
Categories:
Want more from Foodista? Sign up below!