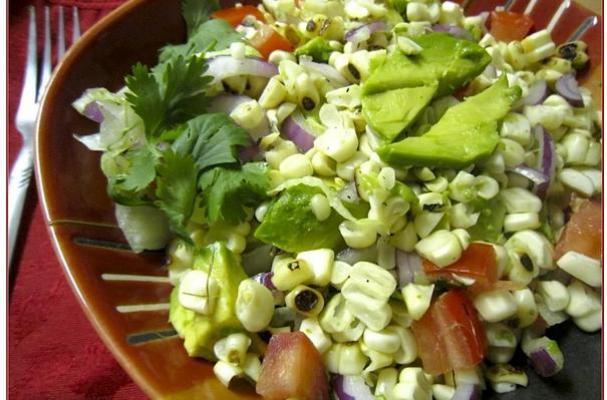 Fresh corn often doesn't need to be messed with, its natural sweetness is often all it takes to say yum. But this amazing corn salad recipe makes the heavens open up and the angels sing. The smoky sweet flavor of grilled corn, the brightness of fresh herbs, and the creamy goodness of avocado are all wrapped up in a zesty tamarind lime dressing. It's a salad that simply pops with flavor!
Grilled Corn Salad With Cilantro-Tamarind Dressing
Recipe submitted to Foodista by Sinfully Spicy
2 ears white corn, husked
1 ripe avocado, cut into cubes
1/2 cup Roma tomatoes, sliced
1/2 cup red onion, sliced
3 iceberg lettuce leaves, shredded (optional)
Cilantro/ Parsely garnish
Dressing:
1 tablespoon olive oil
1/2 teaspoon grated lime zest
2 tablespoons fresh or store-bought tamarind pulp [adjust to taste]
1/2 teaspoon fine red chilli powder
1/2 teaspoon tsp granulated sugar (optional)
1/4 teaspoon fine cumin powder
1/4 cup chopped cilantro
Salt to taste
1/4 teaspoon crushed black pepper
Image Sources:
Want more from Foodista? Sign up below!