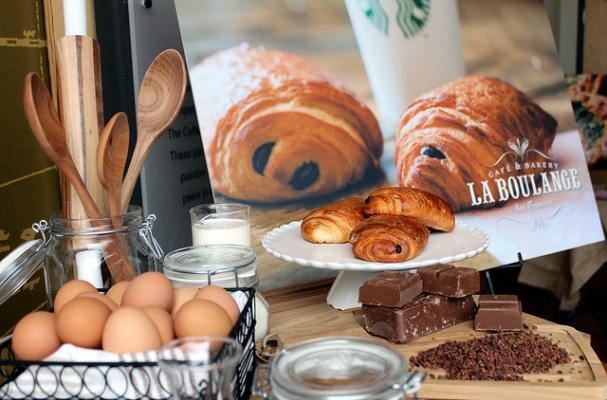 On June 4, Starbucks stores will officially roll out their new partnership with La Boulange, the famous Bay Area French bakery. Why French baked goods? Starbucks thought it was time to pair good coffee with good food. Next week you'll see beautiful artisanal French pastries - all made with locally-sourced, 100% natural ingredients - that will be delivered in charming pink pastry bags. Indeed, it's a whole new endeavor for the coffee company who have in the past missed the mark when it comes to food.
Last week, I had the chance to sample some of these fine baked goods firsthand along with La Boulange's visionary founder and baker Pascal Rigo. His passion, both for high-quality affordable French baked goods (he sells his baguettes for only $1.50) and his new partnership with the coffee giant, was palpable and infectious. After hearing his story and noshing on his light and buttery pastries, I too, found myself cheering.
No, you won't be paying $5 for a muffin. What you will find are reasonably priced and exceptionally delicious loaf cakes (cute!) and muffins, savory and sweet croissants, beautiful Danishes, scones, cookies, even mini chocolate molten cakes made with single origin chocolate from Columbia. And how about a hot dog croissant. Yup, you can get that. You will not find a single artificial ingredient, and many of the new products will be lower in fat, like their light and airy low-fat cranberry walnut loaf. Even their raspberry and blueberry compote-filled brioche doughnuts will be lower in fat. How? Brioche dough doesn't absorb oil as much as a traditional doughnut dough. The menu will also change according to region so that local and seasonal produce can be sourced from sustainable farmers.
A glimpse of what's to come...
The first item we sampled was a classic chocolate croissant made with single origin 65% Columbian dark chocolate. Next up were three savory croissants: a vine-ripened tomato, Swiss cheese and herb croissant (250 calories); and a whole wheat pastry filled with spinach, shallots and a béchamel sauce (320 calories).
These tasty treats were followed by a ham and Swiss cheese croissant also filled with a creamy béchamel sauce (330 calories). All were exceptionally light and flaky and made with 100% butter pastry dough. I am hard pressed to choose which I liked the best, they were all amazingly good.
We then tasted a selection of their loaf cakes, muffins and Danish: a luscious vanilla lemon loaf cake served with the optional all-natural lemon or vanilla cream cheese frostings, a blueberry yogurt muffin with honey, a low-fat cranberry walnut loaf, and a raspberry compote-filled Danish.
We finished the tasting with a decadent mini molten chocolate cake which, along with everything else, was served warm - of course. Divine.
Starbucks will expand the La Boulange baked goods line next June to include equally delicious lunch items.
Be sure to stop by your local Starbucks on June 4 to taste the new La Boulange goodness yourself. I promise, you're in for a treat! Check out the Starbucks website for more on their partnership with La Boulange.
Categories: