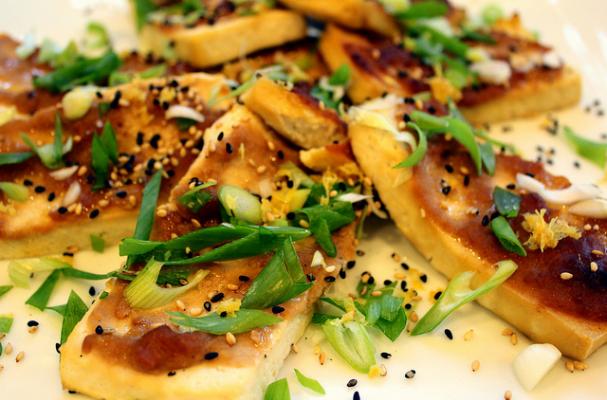 These flavorful tofu steaks are the perfect quick and easy meatless Monday meal! All you need is firm tofu, miso, green onions, lemon zest and sesame seeds. The umami flavor of the miso makes this vegan/vegetarian dish downright meaty (but in a good way)! We served it hot alongside wakame (seaweed) and Asian cucumber salads, but they would be delicious in a cold banh mi-style sandwich.
Miso-glazed Tofu Steaks
2 servings
1 block firm tofu
White miso paste
2-3 green onions (white and green parts), sliced on the diagonal
Zest of one lemon
Toasted sesame seeds
Preheat oven to 350° F. Slice tofu into steaks about 1/2-inch thick. Spread a generous amount of miso paste on one side of each steak. Place on a non-stick baking sheet and bake for about 30 minutes or until lightly browned. Meanwhile, thinly slice green onions. Remove tofu from oven and plate. Garnish with green onion, lemon zest and sesame seeds.