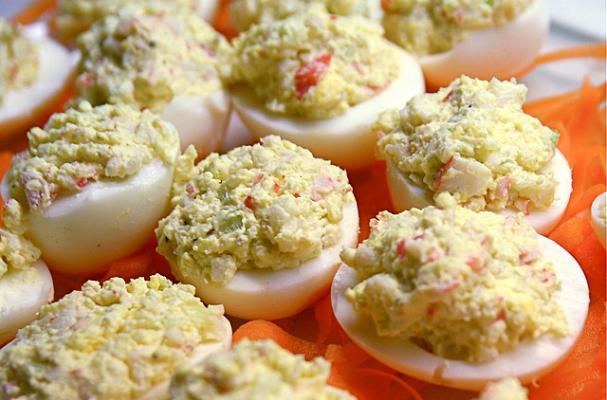 In celebration of National Deviled Eggs Day, whip up a dozen or two of these scrumptious crab-filled deviled eggs! Why stop with the classic when you can have these decadent, cocktail party-worth morsels. We recommend pairing them with a little Champagne. Find more deviled egg recipes here.
Best Ever Deviled Eggs With Crab
4 ounces lump crabmeat
1/2 stick celery, finely chopped
2-3 tablespoons sour cream
1 tablespoon mayonnaise
1 tablespoon Dijon mustard
1 tablespoon fresh lemon juice
3 tablespoons chopped fresh chives
Salt and freshly ground black pepper
6 hard boiled eggs, peeled, halved, and yolks removed
In a medium-sized mixing bowl combine the crabmeat, celery, sour cream, mayonnaise, Dijon mustard, lemon juice, and chives. Stir until well combined.
Season, to taste, with salt and pepper.
Spoon the crab mixture into the egg halves.
Serve immediately or chilled until ready.