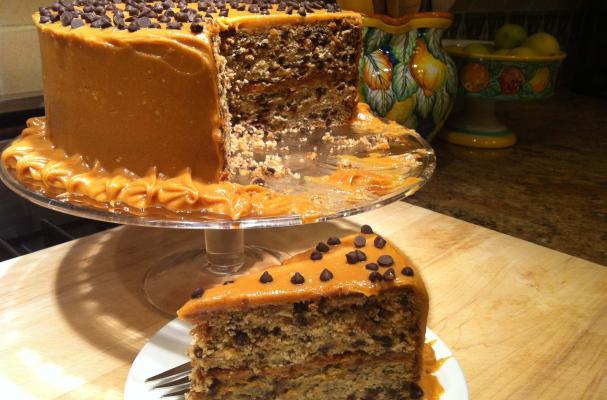 The only thing better than a banana chocolate chip cake with peanut frosting is a gluten free, dairy free, soy free version that tastes just as amazing. We want to eat this right now!
Banana Chocolate Chip Cake With Peanut Butter Frosting
You will need: Two cake pans, 8 inch round by 2 inches deep and Pastry Star Tip (I use Kaiser 45-9)
Cake
1 cup potato starch (I use Bob's Red Mill flours)
1 cup white rice
1 cup sorghum
1/2 cup tapioca starch
2 teaspoons baking soda
2 teaspoons kosher salt
1 1/2 cups organic evaporated cane sugar
8 ounces Earth balance Soy Free Spread, room temperature PLUS extra for greasing cake pans
1/2 cup organic light brown sugar, packed
3 organic large eggs
1 1/2 teaspoon vanilla extract (I use Nielsen Massey)
2 1/2 cups mashed ripe bananas (about 6 bananas)
1 cup vegan sour cream ( I use Way Fare)
1 10 oz bag gf/df/sf chocolate chips (I use Enjoy brand)
Frosting
1 3/4 cups organic creamy peanut butter
1 1/2 cups organic powdered sugar
7 oz Earth Balance Soy Free Spread, room temperature (leave out for an hour)
2 1/2 teaspoons vanilla extract
Image Sources:
Categories:
Want more from Foodista? Sign up below!