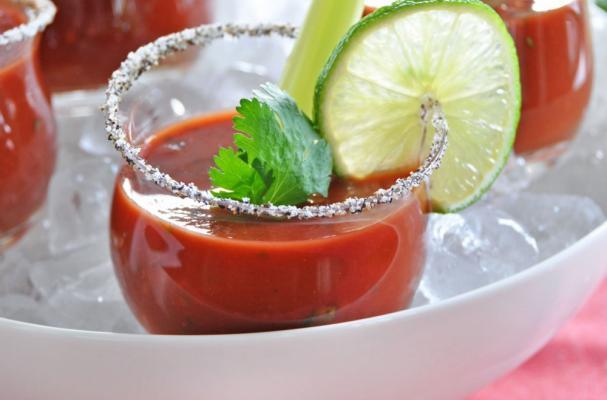 Every holiday bar set-up should have the fixings for a classic Bloody Mary. We love our Mary's loaded with horseradish and Tobasco for a spicy kick and this one's got it! Fresh lime juice and cilantro brighten up this cocktail making it a refreshingly delicious libation perfect for day or night festivities.
Bloody Mary
Submitted to Foodista by At the Table
Makes 4 cocktails
20 oz tomatoes, finely chopped
1.5 cups tomato juice
1/4 cup vodka, or to taste
1 tablespoon Worcestershire sauce
1 tablespoon Tobasco sauce
1 tablespoon horseradish
1/2 fresh lime juice
3 stems of fresh cilantro finely chopped
ice to serve
celery
salt & pepper
Place tomatoes and 1 tablespoon salt in a bowl and allow to sit in the fridge for at least an hour.
Place the tomato pieces in a blender with the tomato juice, Worcestershire, Tabasco horseradish and lime and blend until smooth.
When ready to serve divide mixture into quarters, pour into a shaker with 1/4 cup vodka, chopped cilantro & lots of ice. Shake and serve chilled.
Garnish with salt & pepper, lime and celery!
Categories: