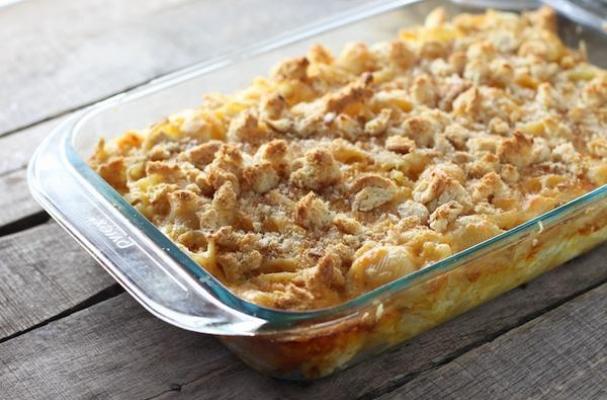 Tender macaroni noodles and gooey cheese might just be the ultimate comfort food. This version from Food Babbles pairs pasta shells with classic cheddar and Colby cheeses, all with a little horseradish tucked in for a little kick.
Horseradish Cheddar Macaroni & Cheese
Ingredients:
Breadcrumbs
1 tablespoon unsalted butter
4 slices white bread cut into 1/2-inch squares
Kosher salt

Pasta
8 ounces horseradish cheddar cheese, shredded
8 ounces Colby cheese, shredded
8 ounces extra sharp cheddar cheese, shredded
2 cups pasta shells, cooked 1-2 minutes under recommended cook time
Custard
2 teaspoons all-purpose flour
1/2 teaspoon kosher salt
1/2 teaspoon freshly ground black pepper
1/2 teaspoon dry mustard
1/4 cup sour cream
1 egg, beaten
1/4 cup grated Vidalia or sweet onion
1 cup heavy cream
1 cup half-and-half
Image Sources:
Categories:
Want more from Foodista? Sign up below!