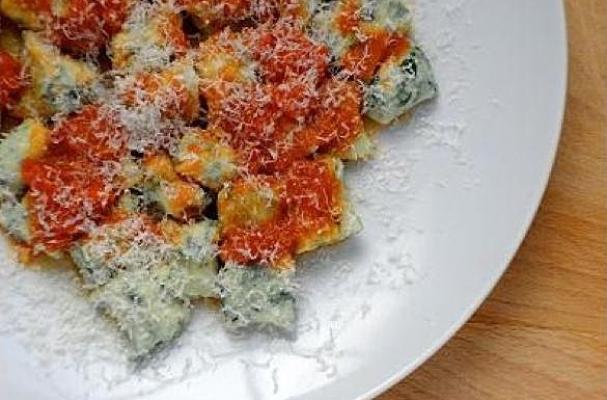 These light and fluffy cloud-like ricotta dumplings are simply heaven sent! Gnudi (pronounced nu-dee) are a cousin of gnocchi, another little dumpling typically made with potatoes. Unlike gnocchi (which can often end up too dense if overworked), gnudi are much easier to make. These tender little spinach pillows are swaddled in a buttery tomato sauce and are so good you just may hear angels sing.
Spinach and Ricotta Gnudi With Tomato-Butter Sauce
Submitted to Foodista by Koek!
For the tomato-butter sauce:
1 small onion, halved
1 clove garlic, crushed
1 teaspoon olive oil
1 400-gram (14 ounces) can chopped tomatoes
100 grams (7 tablespoons) butter
For the gnudi:
1 cup flour
60 grams (2 cups packed) spinach
1 egg
300 grams (1 1/2 cup) ricotta
1/2 cup freshly grated Parmesan
In a small saucepan, gently fry the onion halves and garlic in the olive oil until the garlic is fragrant (don't let it brown).
Add the tomatoes and simmer, covered, for about an hour.
In the mean time, make the gnudi: In a saucepan, fry the spinach until just-wilted and allow to cool. Squeeze out any excess moisture and chop finely.
In a mixing bowl, combine the flour, spinach, egg, ricotta and Parmesan. Mix vigorously until well combined.
Dollop a spoonful of the mixture onto a floured surface and, using your (also floured) hands, roll into a cylindrical shape about an inch in diameter. Cut into 2cm or 3cm pieces and set aside. Repeat with the rest of the mixture.
Bring a large pot of salted water to the boil, and plop in about a third of the gnudi (you don't want them to be too crowded or they may stick together – also, too may will bring down the temperature of the water). Let them cook for an extra minute after they've risen to the surface (about 3-4 minutes in total), then remove with a slotted spoon, set aside and keep warm. Drizzle with a little olive oil to prevent them sticking together. Repeat with the remaining gnudi.
While the last batch of gnudi is cooking, remove the onions from the tomato sauce and add the butter, stirring until it is incorporated.
Divide the gnudi between bowls and spoon over the tomato-butter sauce. Top generously with freshly grated Parmesan and serve.