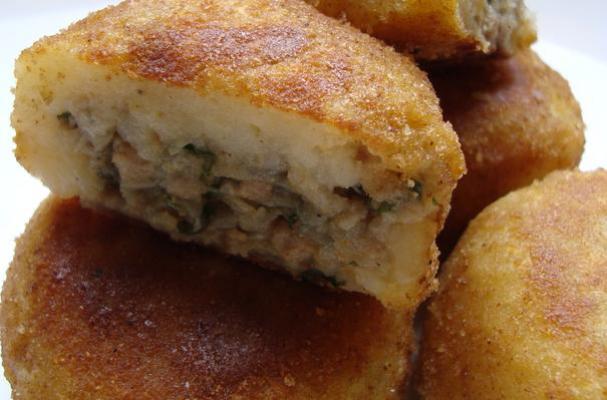 Potato chops are an East Indian specialty of fluffy mashed potatoes stuffed with a delicate mixture of spiced ground beef. They are then lightly fried until crisp and golden. These little potato cakes are so tasty you'll want to make a double batch!
East Indian Potato Chops
Submitted to Foodista by Potato Chops and Boneless Chicken
Makes 14
2 1/4 cups potatoes, boiled, skinned and mashed smooth with salt
250 grams (1/2 pound) ground beef
4 large onions, chopped finely
2 green chillies, seeded and chopped finely
6 garlic cloves, chopped finely
1 inch fresh ginger, chopped finely
2 tablespoons fresh cilantro, chopped finely
1 tablespoon fresh mint, chopped finely
juice of one lime
oil for frying
breadcrumbs
1 egg, beaten lightly
salt and pepper to taste
Heat a teaspoon of oil in a casserole and add the chopped onions. Fry the onions until they caramelise lightly.
Then add the ginger, garlic, green chillies and continue to fry the mixture until fragrant, about two to three minutes.
Turn up the heat. Now add the mince, salt and pepper to taste and fry the meat until browned lightly. Lower the heat and continue to cook the meat until all the water released has evaporated. When cooked through, remove from the heat and toss with the herbs and lemon juice. Set aside to cool until needed.
Take a portion of the cooled mashed potato (about the size of a ping pong ball) and flatten it to form the shape of your palm (it should be about ¼ inch thick). If the potato is too sticky grease your palm with some oil. Cup your palm a little to form a pocket.
Add a tablespoon and a half of the cooled mince mixture to the centre of the flattened potato pocket. Enclose the filling by drawing up the sides of the potato and cover the filling completely so no minced meat is visible. Continue the same process with the rest of the mashed potato and mince.
Heat a generous amount of oil in a wide frying pan. Roll each of the potato chops in some egg and then breadcrumbs before frying until the each potato chop is golden brown.
Serve hot with a side salad or home-made chilli sauce