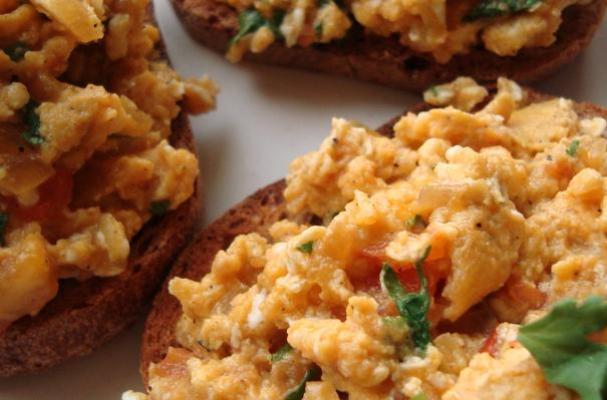 Scrambled eggs can be made a million ways which is what makes this breakfast so versatile. Top toasted bread or English muffins with tender, lightly cooked eggs that are laced with turmeric, tomatoes and fresh cilantro. It's a tasty way to start the morning!
Indian-Style Eggs On Toast
Submitted to Foodista by Pork Chops and Boneless Chicken
Serves 2
6 slices Country-style bread
4 eggs
1/2 onion, sliced finely
1 medium-sized tomato, diced
1/4 teaspoon turmeric powder
1/4 cup fresh coriander leaves, chopped finely
salt and pepper to taste
Toast the bread on both sides in a dry frying pan or under the grill and set aside.
Heat some oil in a frying pan. Sauté the onions until caramelised. Add the tomatoes and cook until they soften. Sprinkle over the turmeric and continue cooking for another minute.
Break in the eggs and cook until required doneness. Stir in the coriander and salt and pepper to taste.
Top the toasts with an equal amount of egg and serve immediately.