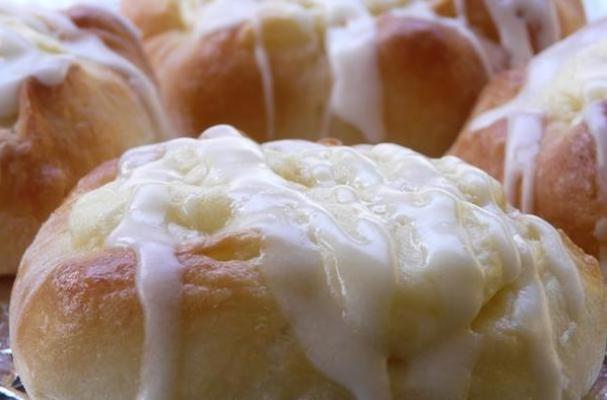 Wake up to the irresistible scent of these easy cheese danishes, just bursting with creamy, sweet filling. The best part about this danish recipe is you can add your favorite dried fruits, and you can cut each danish into any size.
Cream Cheese Danish
Submitted to Foodista by Thibeault's Table
Ingredients:
2 (8 oz.) pkg. cream cheese
2 eggs
1/2 cup sugar
2 teaspoons vanilla
2 (8 oz.) pkg. crescent roll dough
1 egg yolk
1/2 cup raisins or glazed red cherries, chopped small (optional)
Beat cream cheese, eggs and sugar until smooth. Add vanilla and mix at medium speed for 5 minutes. Add fruit and stir. Line a 9 x 13 inch pan with aluminum foil, overlapping sides of pan. Spread 1 package of crescent roll dough in pan, flattening out by hand. Pour cheese mixture over dough. Spread second package of dough over top of cream cheese mix, sealing any perforated pieces. Beat the egg yolk and brush over top of cake.
Bake in 350 degree oven for 30 minutes. Cool. Remove cake from pan with aluminum foil. Cut into squares as preferred. Wrap in aluminum foil; refrigerate. Can be frozen.
Makes 12.
Image Sources: