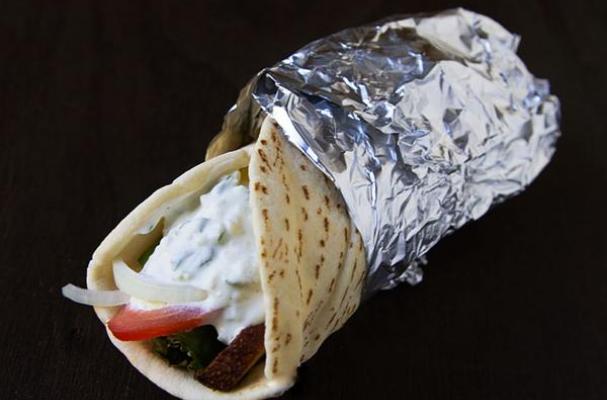 Swap out shavings of lamb-beef gyro meat in favor of thick slices of grilled portobello mushrooms in this vegetarian pita gyro recipe from
La Fuji Mama.
A flavorful seasoning mix on the mushrooms makes them an excellent meat substitute. Serve atop warmed pita with homemade tzatziki sauce.
Ingredients:
Tzatziki
1 cup Greek yogurt
1/2 cucumber, deseeded and finely chopped
1 lemon, juiced and zested
3 garlic cloves, minced
1 tablespoon chopped fresh mint
Fine sea salt and freshly ground black pepper, to taste
Spice mix
1 teaspoon onion powder
1 teaspoon paprika
1 teaspoon dried thyme
1/2 teaspoon fine sea salt
1/2 teaspoon garlic powder
1/2 teaspoon dried coriander
1/2 teaspoon dried oregano
1/4 teaspoon freshly ground black pepper
1/4 teaspoon ground cayenne pepper
Gyros
4 large portobello mushrooms
Olive oil, to brush on mushrooms
4 pitas
2 Roma tomatoes, thinly sliced
1/2 sweet onion, thinly sliced
1/2 head romaine lettuce, ribs removed and cut into large pieces
Image Sources:
Want more from Foodista? Sign up below!