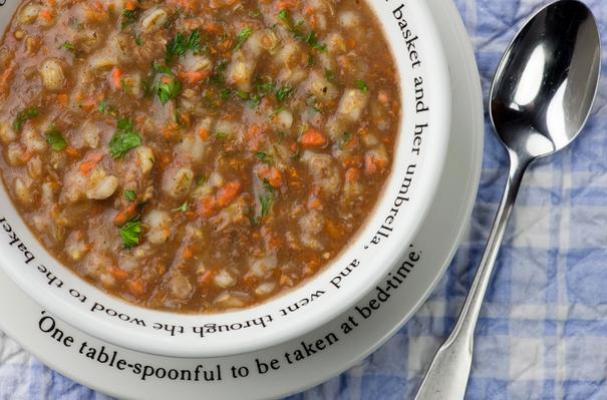 When our 3 1/2-year-old daughter heard the meteorologist announce more foul weather on the East Coast she exclaimed, "More snow?!" We live in Seattle where our winter has been mild, but I was impressed by her concern for the folks who have been experiencing nothing but storms this season (and her knowledge of the fact that it was even snowing somewhere!). So I pulled out our slow cooker and started a batch of chili, as if to help warm my friends back East. Whether you're snowed in or just plain chilly, I hope you enjoy some of these easy slow cooker recipes, from a tasty Chicken Gumbo and a hearty Beer and Cheese Chowder, to a lovely Beef Barley Soup and a healthy Tuscan White Bean Soup scented with rosemary.
Tuscan White Bean Soup with Olive Oil and Rosemary
Courtesy of 50 Simple Soups for the Slow Cooker by Lynn Alley

Slow Cooker Poblano Corn Chowder with Chicken and Chorizo
Campbell's Kitchen

Slow Cooker Pork and Garbanzo Beans
Jennifer Hancox

Slow Cooker Beef Barley Soup
Kate Morgan Jackson

Kicked Up Slow Cooker Chili
Mommie Cooks

Cajun White Bean Soup
Mother Rimmy's Cooking Light Done Right

Satisfying Slow Cooker Italian Stew With Cannellini Beans and Kale
Mother Rimmy's Cooking Light Done Right

Beer and Cheese Chowder
Recipe: Olive Oil, Seattle Co. Photo: stu_spivak



Slow Cooker Chicken Gumbo Soup
The Southern Lady Cooks

Want more from Foodista? Sign up below!