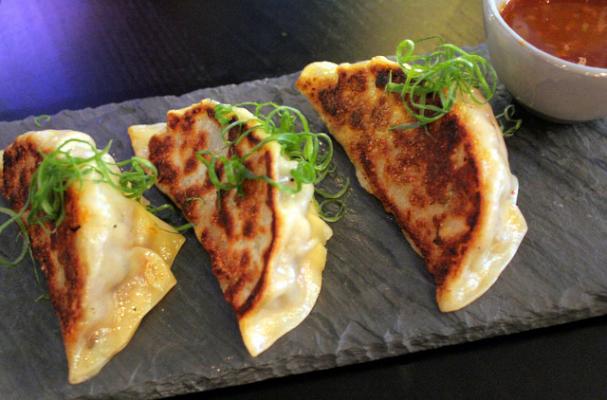 The upscale shopping district of Bellevue, Washington recently welcomed a new and innovative dining destination to the scene. Kaisho (Japanese for meeting or gathering space) is the newest visionary creation of Jeffrey Lunak, former protégé of "Iron Chef" Morimoto, and his team. It's a place where Japanese tradition intersects with American innovation with an inventive peppering of global influences among the mix. Like their sister restaurants, Blue C Sushi, they're connecting with local producers, farmers and fishermen to highlight the seasonal bounty of our region.
On the libation side you'll find a small but thoughtfully selected array of white and red wines from the Pacific Northwest and California to Europe and South America (all under $40 a bottle), as well as a selection of sakes ranging in taste from distinctly dry to slightly sweet. You'll even find a couple of unfiltered sakes which we recommend trying. Coffee and tea lovers will enjoy the single source organic varieties offered (the smoky lapsang souchong is a personal favorite).
Located just across the street from the movie theater, it's a great place to stop in for a fortifying drink at the beautiful bar or have a bite to eat after a show or shopping. The unique and eclectic dishes are offered in small plates (zensai), large plates (umami), things to share (wakemai), seasonal from the market (sansai), and desserts (amai).
Small Plates: Zensai
We started off with a selection of small bites (zensai) and chose a plate of the Smoked Brisket and Kimchee Gyoza Style Dumplings (at top) along with the Thai Style Grilled Skewer (above), a crazy good kebab of fresh and tender calamari, octopus, and unctuous pork belly served with a Thai dipping sauce.
Italian cuisine fans will love the Sushi Rice Risotto, a creamy and comforting bowl of hon-shimeji mushrooms and Japanese wild parsley pesto topped with crispy fried shallots. This dish was comfort food at its best!
Asia collides with Mexico in the tasty and creative Moo Shu Tacos, three hand-held delights filled with tender pork belly, kimchee, edamame and an azuki bean salsa.
Large Plates: Umami
Those with a big appetite should try the towering Bao Burger made with housemade ground beef, braised pork belly, kimchee cucumber, tempura onion rings, balanced between a hum bao-inspired bun and served with Wasabi Puffed Nori Rice Chips (the chips are also offered as a snack on the small plates menu and served with a delicious wasabi crème fraîche dip).
Things Built to Share: Wakemae
For those in the mood to share, try the Kaisho Noodles, a delectable stir fry of two types of noodles tossed with large and tender prawns, tomato, bok choy, a citrus soy and ground chicharron for texture.
Feel like some down home Southern comfort food with an Asian twist? The Thai Fried Chicken and Kimchi Waffles are a must-try (available in whole and half orders). Local free-range chicken is served alongside kimchee-infused waffles (oh, yeah), and topped with a generous scoop of coconut butter and a drizzle of Five Spice syrup then garnished with charred shishito peppers. This dish is damn good!
Seasonal from the Market: Sansai
The sansai selections range from an organic baby green salad with puffed rice, quinoa, compressed Asian pears and apples, with a soy dashi vinaigrette; to Roast Cauliflower bathed in a popping-with-flavor black bean bagna cauda topped with a mitsuba gremolata; to good enough for dessert Roast Banana Squash with Five Spice syrup, miso butter and adorned with toasted squash seeds (we'll be recreating this during the holidays!). The near candy-like Roast Sweet Potatoes (below) are balanced with a savory hit of miso and garlic, then topped with pecans and a drizzle of crème fraîche.
Something Sweet: Amai
Make room for dessert because the three things we tried were out of this world! The Banana Upside Down Cake was served warm with a walnut brittle, caramel rum sauce and banana ice cream.
The Hot Malasadas, a Portuguese-inspired confection, were stellar! Two big freshly made doughnuts filled with a citrus pastry cream were deep fried then dusted with sugar and served warm. Despite their size they were surprisingly light.
Coffee lovers will fall head over heels for the Vietnamese Coffee Pudding (at left), a light as air treat of espresso-spiked whipped condensed milk topped with chocolate crumbles. Lightweights will need a sleeping pill after eating this amazing dessert!
Be sure to check out the full menu at Kaisho including an impressive kids menu. Parents (like us) will be more than impressed with the "real food" options like an organic green salad with local fruit, Grilled Hanger Steak with Broccoli, Seasonal Vegetable Tempura, Steamed Edamame, and more. Well done, Kaisho.
Kaisho
504 Bellevue Square
Bellevue, WA 98004
425.453.6094
Stay in touch:
Kaisho on Facebook, Twitter and Instagram