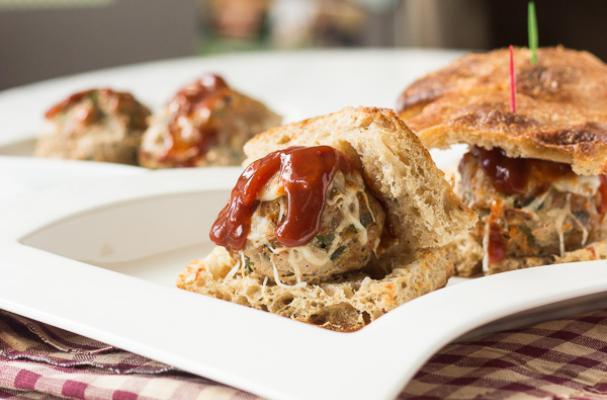 These flavorful turkey meatballs are an easy and versatile dinner the whole family will love! A delicious blend of ground turkey, onions, garlic, spinach, tomato, herbs and spices are formed into meatballs then topped with cheese and baked up in a muffin tin. These little meatballs can be enjoyed as sliders with a balsamic ketchup (recipe below) or smothered in your favorite tomato sauce and served over spaghetti or in a hearty meatball sub.
Italian Turkey Meatball Sliders
Submitted to Foodista by Min Kwon
Hearty artisan bread of choice, such as focaccia
For the Meatballs:
1 tsp olive oil
1/2 red onion, diced
1 Tablespoon minced garlic
1 Tablespoon tomato paste
1 1/4 Ib. ground turkey (93% lean)
1/4 cup panko (Japanese bread crumbs)
2 Tablespoons chopped fresh basil
1/2 teaspoon salt
1 teaspoon Italian seasoning
1 large egg, beaten
1 cup chopped baby spinach
For the Balsamic Ketchup:
2 Tablespoons ketchup
1 teaspoon vinegar
1/4 cup shredded reduced-fat mozzarella cheese
Preheat oven to 350 degrees.
Heat oil in a small skillet. Add onion and cook over med-high heat until softened, 2 min. Add garlic. Add tomato paste. Stir all together, approximately 3 minutes. Set aside and allow it to cool.
In a large mixing bowl, add turkey, egg, Italian seasoning, panko, spinach, basil, and cooled onion mixture. Mix until well combined but don't over-mix. Using large ice cream scooper, form about 10 meatballs. Roll them into neat balls.
Grease 12 cup mini muffin pan. Drop meatballs into cups of pan. In empty cups, fill with water for even baking.
Place in oven for approximately 40 minutes or until nicely browned and cooked through.
In the meanwhile, prepare balsamic ketchup. Slice bread.
When meatballs are done, take pan out and set oven to broil (place rack near top). Line sliced bread on large baking sheet covered with aluminum foil. Add meatballs and top with cheese. Bake until cheese has melted, approx 1-2 minutes.
Top meatballs with ketchup. Cover with slider tops. Serve while warm.