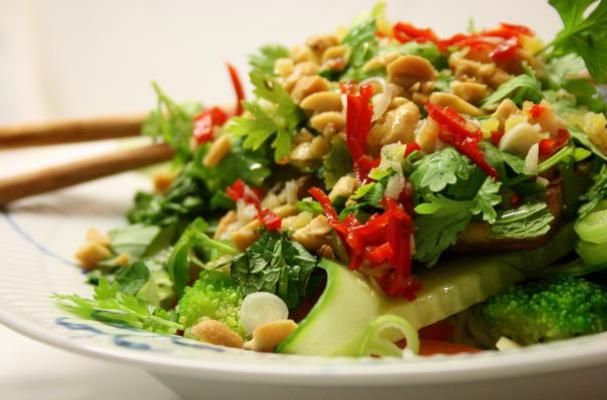 We love the fresh and bold flavors of Vietnamese cuisine and find this healthy salad simply irresistible! Tofu is marinated in a sweet and spicy sauce, pan fried, then tossed with fresh herbs, rice noodles, lettuce and vegetables. It's the perfect light yet satisfying meal!
Vietnamese Noodle Salad With Tofu
Submitted to Foodista by Misbean
200 grams (7 ounces) Tofu
4 tablespoons Soya
3 tablespoons Sesame oil
2 Garlic gloves
Marinade:
1 deciliter (~1/2 cup) Water
5 tablespoons Rice vinegar
3 tablespoons Fish sauce
1 Red chili
4 centimeters (1.5 inches) Ginger
2 Garlic gloves
1 Lime (juice)
50 grams (1/4 cup) Cane sugar
Salad:
200 grams (1 cup) Broccoli florets
1 Carrot
1 Spring onion
1/4 Cucumber
1/2 Red pepper
3 Large Iceberg leaves
1 Large handfull mixed herbs (coriander, mint, thai basil)
50 grams (1/3 cup) Peanuts
100 grams Rice noodles
The tofu: Slice up the tofu (3/4 cm thick slices) and marinade it over night (or at least for 2 hours) in soya, sesame oil, and sliced garlic gloves.
The marinade: Finely chop chili, ginger, and garlic. Add all the ingredients, except lime juice, to a small pot and simmer for 5-10 minutes a low heat. Cool off and adjust with lime juice.
The salad: Heat up a large pan and fry the marinated tofu at medium heat until golden brown. In a dish, pour boiled water over the broccoli florets and leave for 5 minutes before draining off excess water. Prepare the noodles according to the manufacturer. Finely chop the spring onion and remove the inner watery part of the cucumber. Slice up the carrot, cucumber, red pepper, and iceberg into fine shreds and roughly chop both herbs and peanuts.
Arrange in two large bowls. First iceberg, then noodles, vegetables, tofu, herbs, peanuts and marinade.