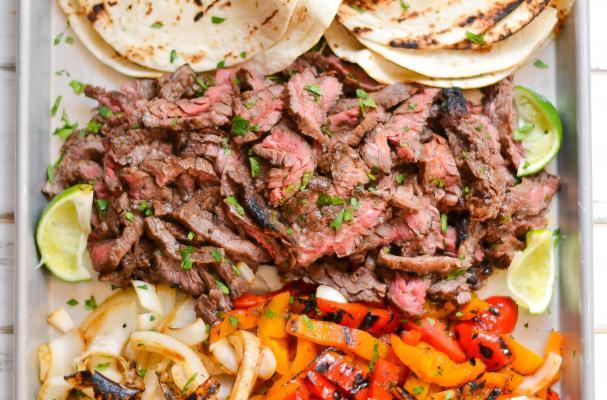 Steak fajitas is a family style meal that you can enjoy with your loved ones. Skirt steak is an inexpensive cut of meat that works perfectly in this dish. The key to tender pieces of meat is to let it rest after cooking and slicing the meat against the grain. Serve this meal with your favorite fajita sides including rice, beans, chips and guacamole.
Skirt Steak Fajitas
Recipe from Apples and Sparkle
1/3 c. soy sauce
1/3 c. fresh squeezed lime juice
1/3 c. canola oil
3 cloves of garlic, minced
2 T. brown sugar
1 t. cumin
1 t. chile powder
about 2 lb. skirt steak
2-3 bell peppers, ends trimmed, cored and seeded, cut into a couple large pieces
1 large white onion, peeled and cut into 1/2-3/4-inch slices (keep the slices intact)
18 6-inch flour tortillas
lime wedges
toppings of your choice such as, cilantro, salsa, cheese, sour cream & avocados or guacamole
Image Sources:
Want more from Foodista? Sign up below!