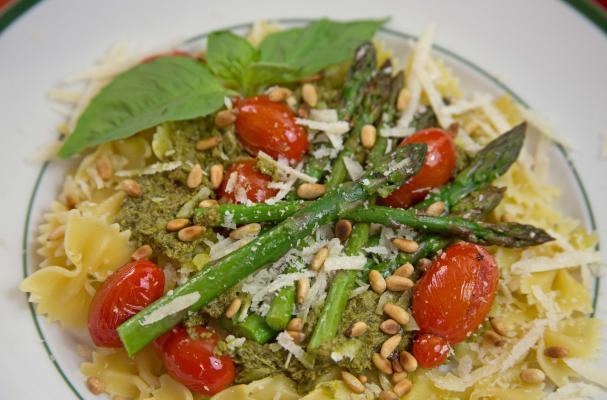 Pesto pasta with asparagus and tomatoes is packed with spring flavors. Pre-made pesto is tossed with farfalle (bow tie pasta), fresh vegetables, and a sprinkling of buttery pine nuts. The key to having the pesto stick to each individual piece of pasta is to not rinse it after draining. The residual starch helps the pesto cling to the pasta. This meal can be served both hot or cold.
Pesto Pasta with Asparagus and Tomatoes
6 oz Farfalle (bow tie) pasta 1
/2 bunch of thin organic asparagus, cut to 5 - 6 inch lengths
20 organic cherry tomatoes
1/2 jar of pesto sauce
1/8 C of roasted or sauteed pine nuts (pignolis)
1 T extra virgin olive oil
3 T fresh grated Parmesan cheese
Image Sources:
Want more from Foodista? Sign up below!