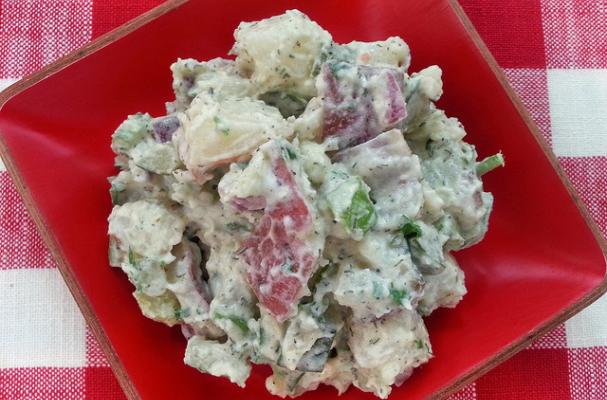 Whichever version you prefer - creamy or vinegar-based - potato salad is simply the perfect side dish for a summertime barbecue. This version uses mayonnaise, but a lower fat version can easily be made by using non-fat sour cream or non-fat plain yogurt (go for a thick Greek-style one!). Our potato salad is different every time we make it depending on the ingredients we have on hand. Sometimes we use yellow new potatoes in lieu of red (and fingerlings make a fun presentation too!), sometimes we quick pickle the onions in a bit of vinegar to round out their spiciness, other times we'll add a medley of different herbs like cilantro, chives or even garlic scapes or sorrel when in season. Keep it classic or make it your own. The result will surely be delicious!
Classic Red Potato Salad
This crowd-pleaser can be made ahead of time, in fact, we like to make it the night before so the flavors can deepen while it rests in the fridge.
6-8 medium red potatoes, peels on and quartered
Salt for potato water
1 cup mayonnaise (or sour cream or plain yogurt if you prefer a lighter version)
1 Tbsp mustard
1 1/2 Tbsp white vinegar
2 celery stalks, thinly sliced
1 small red onion, diced
1 tablespoon fresh dill, finely chopped
A handful of fresh flat leaf parsley, roughly chopped
Celery salt and freshly ground black pepper, to taste
Optional additions: hard-boiled eggs, mustard, sweet or dill pickles or pickle relish, paprika for garnish
Place potatoes in medium saucepan and cover with cold salted water. Bring to a boil over medium-high heat, then reduce heat and simmer until potatoes are just tender, about 8-10 minutes. Drain and set aside.

In a large bowl, combine mayonnaise, mustard, vinegar, celery, red onion, dill and parsley. Mix until well combined. Add potatoes and stir until coated. Season to taste with celery salt and pepper.
Chill for at least 2 hours or overnight.
Looking for menu inspiration for your outdoor party? Be sure to check out our BBQ & American, Burgers & Sliders, and Easy Outdoor Entertaining Pinterest boards for loads of recipes from across the web!
Categories: