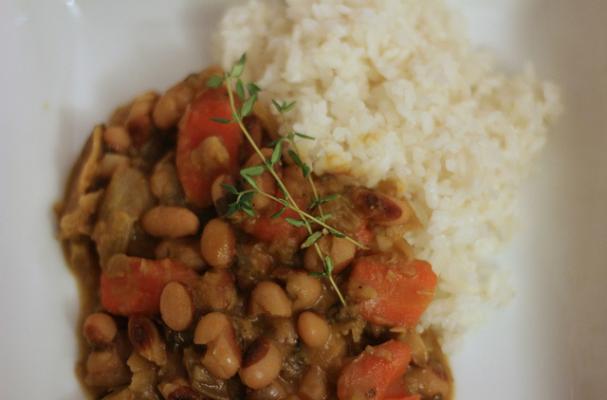 I call this pantry stew as it includes staple items that are commonly found in many, if not most, pantries: beans and chicken stock. This is such an easy meal and it makes a full crockpot, so there's plenty for leftovers or for freezing. It's full of protein and fiber and has almost zero fat, making this a lean and healthy dinner!
Ingredients
A good quality bean and a good quality stock will yield a much more flavorful meal, so we don't skimp. A few times each year I place a big order of my favorite beans from Rancho Gordo, purveyors of high-quality heirloom beans. A quality bean will cook up faster, and be more tender and flavorful than old beans that have sat in a bag for far too long. Once you eat a good bean, you'll never settle for less! For this recipe I chose dense yet creamy Yellow Eye beans.
I also make sure we have a variety of good stocks on hand and love the homemade-quality broths from Aneto. Sometimes we use their chicken stock for our bean dishes, other times we use a more complex stock such as one of their paella broths (we buy their broths in bulk on Amazon).
For this recipe we used a bag of pre-chopped mixed cruciferous vegetables that contained kale, Brussels sprouts, broccoli, and green and red cabbages (found at Trader Joe's), but any blend or single vegetable will be just as delicious.
Slow Cooker Vegetable Bean Stew
1 tablespoon olive oil
1 yellow or white onion, chopped
4 stalks celery (including leaves), sliced at an angle
4 carrots, sliced at an angle
1 pound Rancho Gordo Yellow Eye beans (or your bean of choice)
1 package mixed cruciferous vegetables such as kale, broccoli, Brussels sprouts, cabbage
1 liter good quality chicken stock
3 stems fresh thyme
Water
Salt and pepper to taste
Heat olive oil in a large skillet over medium heat. Add onions, celery and carrots and sauté until fragrant and lightly golden brown, about 8-10 minutes.
Transfer to a slow cooker and add beans, mixed vegetables, stock and thyme. Stir to combine and add enough water to just cover. Turn slow cooker on high and cover. Cook at least 6 hours. Season to taste with salt and pepper. If you want a thicker stew, leave the lid off the last hour or so to reduce.
Excellent served with rice.