What better way to show your happiness for the Supreme Court's ruling that same sex marriage is just that; marriage, than to bake up a batch of rainbow cookies! We think it's a simple way to show your love and support of whomever it is that you DO love. It's a wonderful day to be living in the U.S.A. and at Foodista, that translates into celebrating with something homemade.
Check out this list of rainbow cookies and make a new one every day this week. Let's keep the party going all week long.
Image Sources: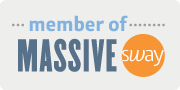 Want more from Foodista? Sign up below!