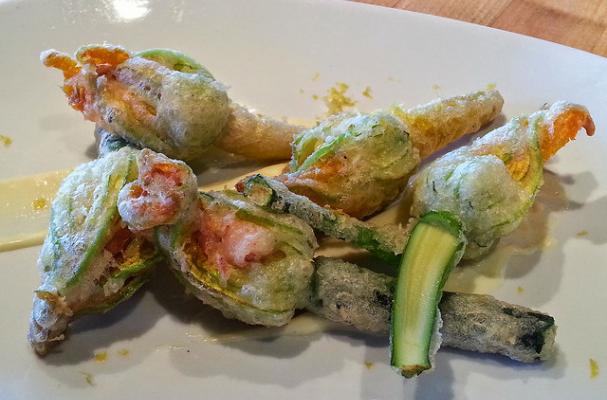 Our favorite part of squash season is cooking up their delicious and tender blossoms. Once deep fried to a golden brown these beauties are a delight to have on your plate! We love them with a simple herbed goat or ricotta cheese filling enjoyed on their own or atop a green salad. But during salmon season we love these creamy smoked salmon belly-stuffed squash blossoms from Chef Shane Ryan at Matt's in the Market located in Seattle's historic Pike Place Market. These decadent blossoms are the perfect appetizer and are easier to make than you think! Watch the short how-to video to learn just how easy it is to make them.
Ingredients needed:
For the filling:
Smoked salmon (belly, if you can get it)
Creme fraiche
Tarragon
Lemon
For the batter:
All-purpose flour
Rice flour
1 egg yolk
Sea salt and freshly cracked black pepper
Soda water
Oil for deep frying

Want more from Foodista? Sign up below!