Premier Sponsors
For Sponsorship Opportunities please contact
Reno Walsh
406-580-5919
or
IFBCSponsors@foodista.com
The State of Food Blogging Survey Results Are In!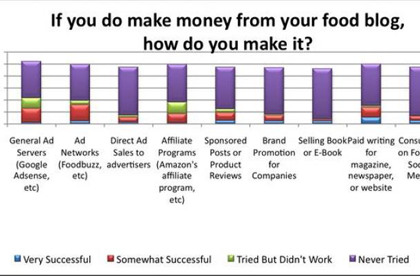 In February of this year, Foodista and Zephyr Adventures conducted a State of Food Blogging Survey. The survey, inspired by the State of the Blogosphere conducted annually by Technorati, was to learn more about food bloggers: who they are, what motivates them, why they blog, how they use social media and ad networks, and how they measure success. 694 food bloggers completed a 30-question online survey. The respondents were primarily Citizen Bloggers (79%) with a small minority of Entrepreneurial Bloggers promoting their own company (17%) and the remainder connected to corporations (4%). A summary of the overall findings follows.
-The prototypical food blogger is a married woman in her 30s - 40s living in the United States
-She most likely comes to the food blogging world with some relevant food, marketing, or writing background.
-A large population of bloggers is looking to capitalize on their blogs by becoming more involved in the food world professionally.
-Almost all food bloggers judge their success based on the personal satisfaction they achieve. Very few judge this based on revenue earned.
-The time spent posting, using social media, and reading other food blogs has increased dramatically for most food bloggers since they first began blogging.
-The subject of "recipes" is by far the most common topic covered by food blogs, with 89% of blogs addressing this.
-Twitter is more important than Facebook in terms of usage by food bloggers and is becoming even more important.
-75% of food bloggers do not make any money at all from their food blog and another 19.5% make less than $200 per month.
-82% of food bloggers have not attended a food blogger conference.
Check out our fun State of Food Blogging Infographic!
Embed the infographic by copy/pasting the code below:
Who Should Attend
Bloggers, Food Writers & Cookbook Authors
Publishers, Agents & Editors
Food Brand / Restaurant Marketers
Public Relations Professionals
Registration
IFBC 2013 Registration
For non-blogger participants: industry, media relations professionals, etc.
Fee: $395
IFBC 2013 Discounted Blogger Registration*
For active bloggers
Fee: $95
*New in 2013! See registration for qualifying details.
Food Bloggers Register here!
Fee: $95 for Food Bloggers, $395 for Non-Bloggers
Including gourmet food and drinks!
Conference Information
Subscribe to the IFBC Mailing List