Premier Sponsors
For Sponsorship Opportunities please contact
Reno Walsh
406-580-5919
or
IFBCSponsors@foodista.com
Wüsthof Defines the Edge in IFBC Butchering Demo!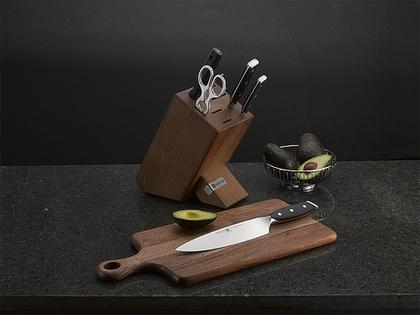 Founded nearly 200 years ago in Solingen, Germany, Wüsthof is a family-owned and managed company with a rich heritage crafting premium-quality cutlery and knife sharpening tools. Wüsthof knives are sought after by culinary professionals and avid home cooks worldwide.
In 2010, Wüsthof introduced a patent-pending Precision Edge Technology (PEtec) for the best-selling Classiccollection of precision-forged cutlery. The PEtec advancement increases blade sharpness by 20 percent, and increases edge retention for twice as long. Today, PEtec is offered on all forged lines, including Classic IKON, Grand Prix II, Le Cordon Bleu, and the newly launched Williams-Sonoma exclusive, Precision by Wüsthof.
Precision by Wüsthof is the newest cutlery collection. Precision's bold and contemporary design was created by award-winning, Swiss-born industrial designer, Nick Thompkins. Precision blades are slightly oversized to impart a bolder and "edgier" look, and an attractive bolster of gleaming steel at the end of the handle is squared off for a new shape that's refreshingly modern and elegant, particularly when the knives are stored in a block on the counter.
This spring, Wüsthof launched "defining the Edgë," a groundbreaking multi-platform consumer marketing initiative that salutes and aligns itself with edgy young chefs and culinary professionals who share the brand's distinction of challenging the status quo in pursuit of excellence. To learn more about "defining the Edgë, please visit Wüsthof's new multi-media rich site, http://www.wusthofedge.com.
Wüsthof is pleased to announce that one of chefs from the new campaign, "The Pöet, Camas Davis, will be participating at IFBC with a demonstration of pig butchering. Please be sure to stop by to see Camas at work, and learn about her philosophy and commitment to sustainable agriculture, including sourcing meat (read more about and register for IFBC here).
For more information about Wüsthof, please visit www.wüsthof.com and www.wusthofedge.com. Be sure to follow us on Twitter: www.twitter.com/wusthof and like us on Facebook: www.facebook.com/wusthof1814.
Who Should Attend
Bloggers, Food Writers & Cookbook Authors
Publishers, Agents & Editors
Food Brand / Restaurant Marketers
Public Relations Professionals
Registration
IFBC 2013 Registration
For non-blogger participants: industry, media relations professionals, etc.
Fee: $395
IFBC 2013 Discounted Blogger Registration*
For active bloggers
Fee: $95
*New in 2013! See registration for qualifying details.
Food Bloggers Register here!
Fee: $95 for Food Bloggers, $395 for Non-Bloggers
Including gourmet food and drinks!
Conference Information
Subscribe to the IFBC Mailing List